Advanced Features for Financial Document Conversion
DocuClipper offers an extensive range of features designed to simplify and streamline financial document conversion. Our cutting-edge OCR technology enables efficient data extraction from PDF bank and credit card statements, saving time and reducing errors.
Free 14-day trial. No credit card required.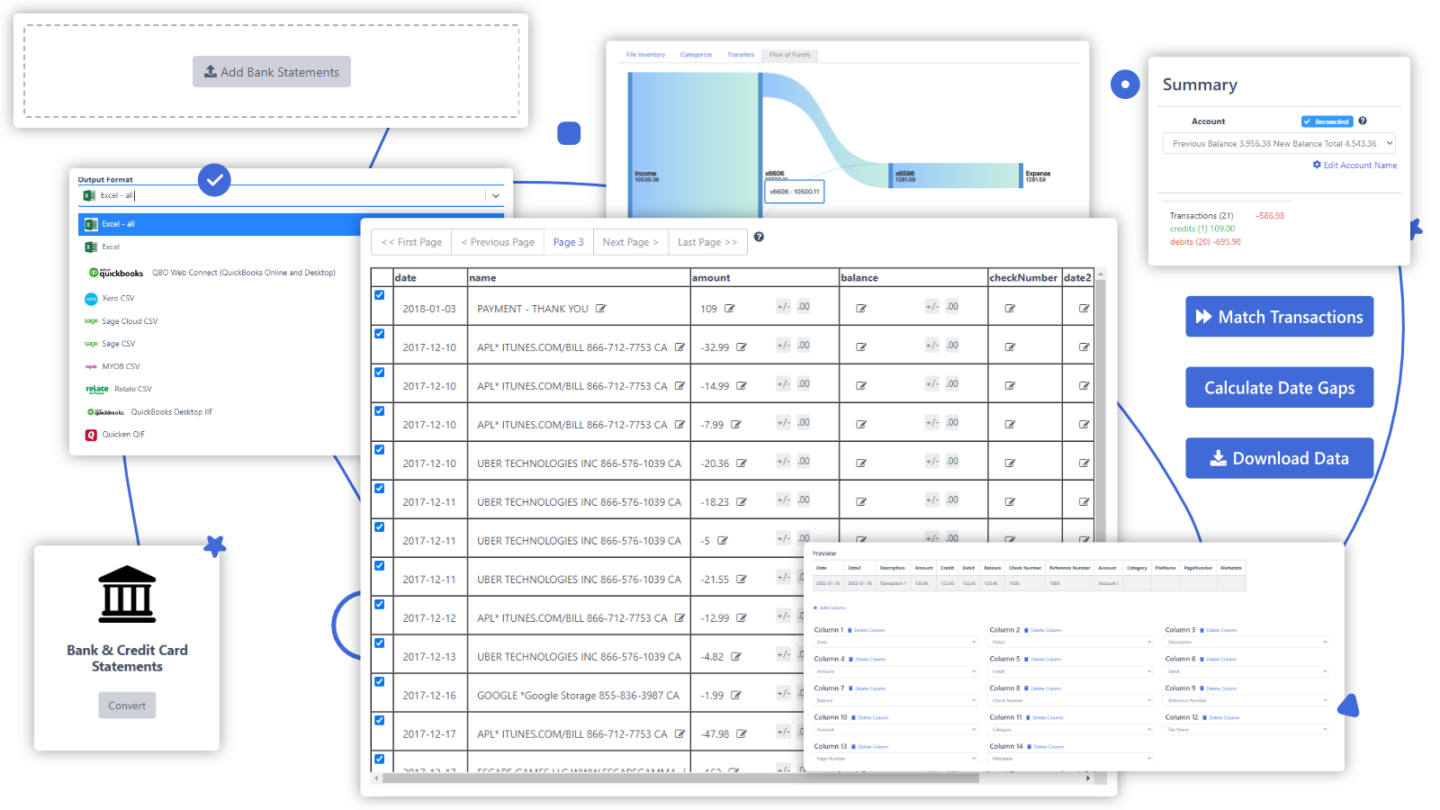 TRUSTED BY THOUSANDS OF BUSINESSES ACROSS THE GLOBE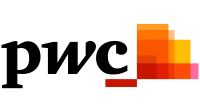 Powerful Features to Save Time and Ensure Accuracy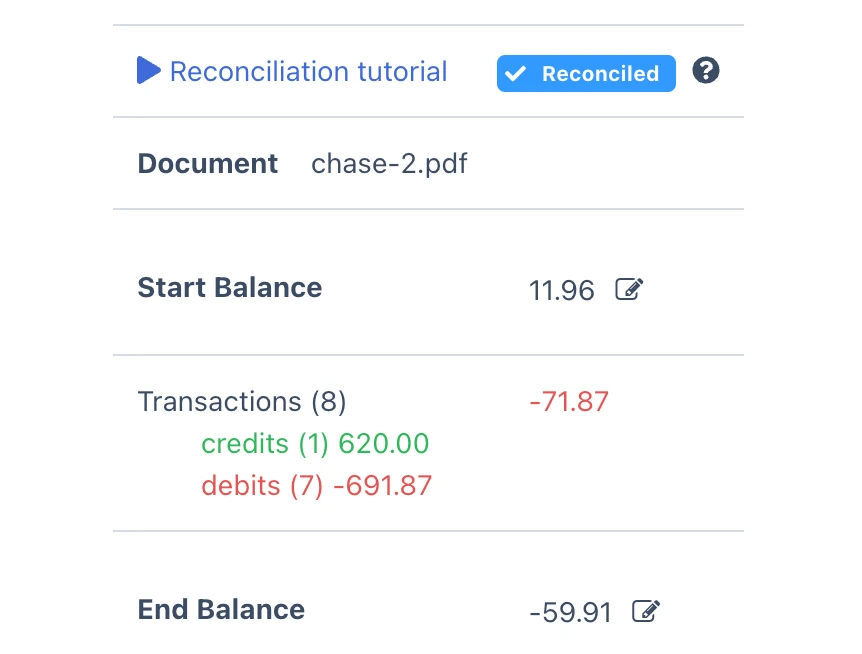 Conversion accuracy is ensured by automatic reconciliation, which compares transaction totals to summary information on the statement. If everything checks out, the statement is identified as reconciled, saving you time and manual review.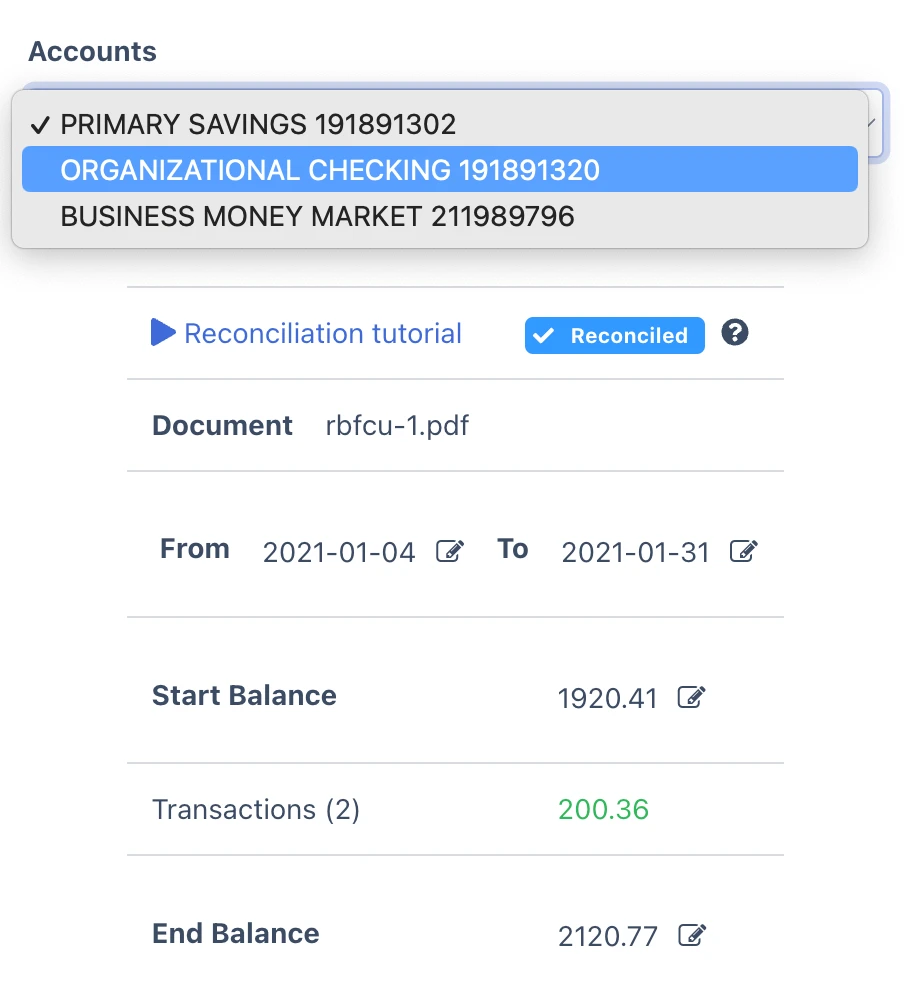 DocuClipper detects multiple accounts in a single statement and downloads separate files for each account.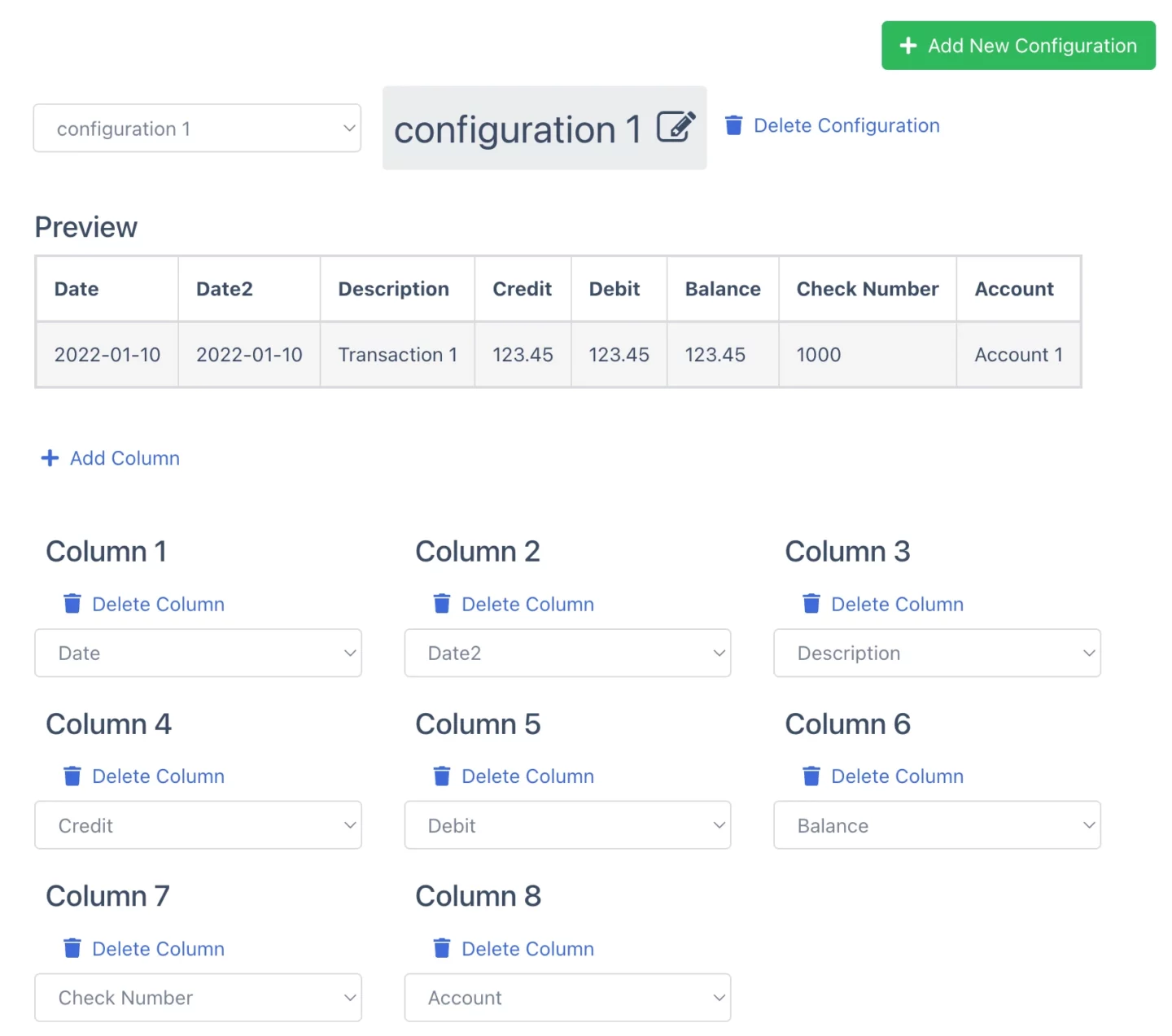 Download spreadsheets in the format you need. You can select dates, description, credit, debit, balance, account names, and many other fields.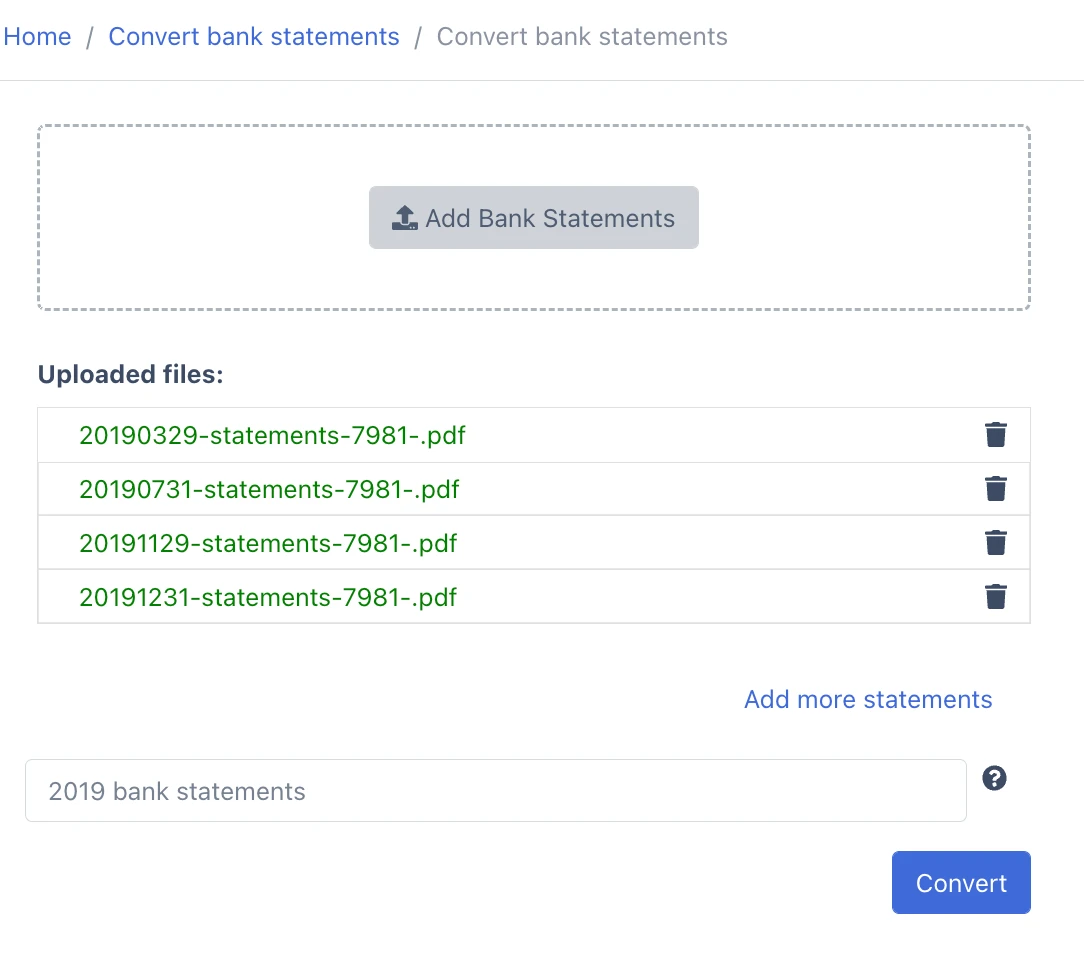 Convert multiple bank statements at once to save time.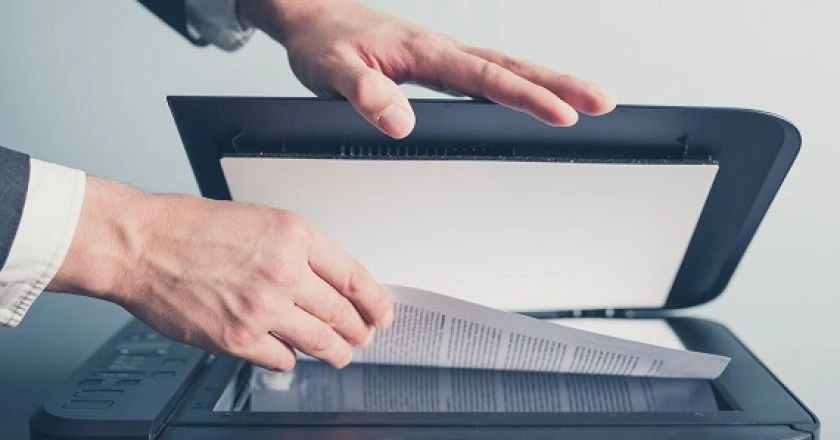 Convert any scanned PDF bank, credit card, and brokerage statements. Best-in-class fast optical character recognition gives the best accuracy.
Advanced Tools for Financial Investigators To Speed Up Your Analysis
Never miss a crucial document again. Our File Inventory feature ensures all necessary statements are present for your analysis, providing a comprehensive overview of your available data.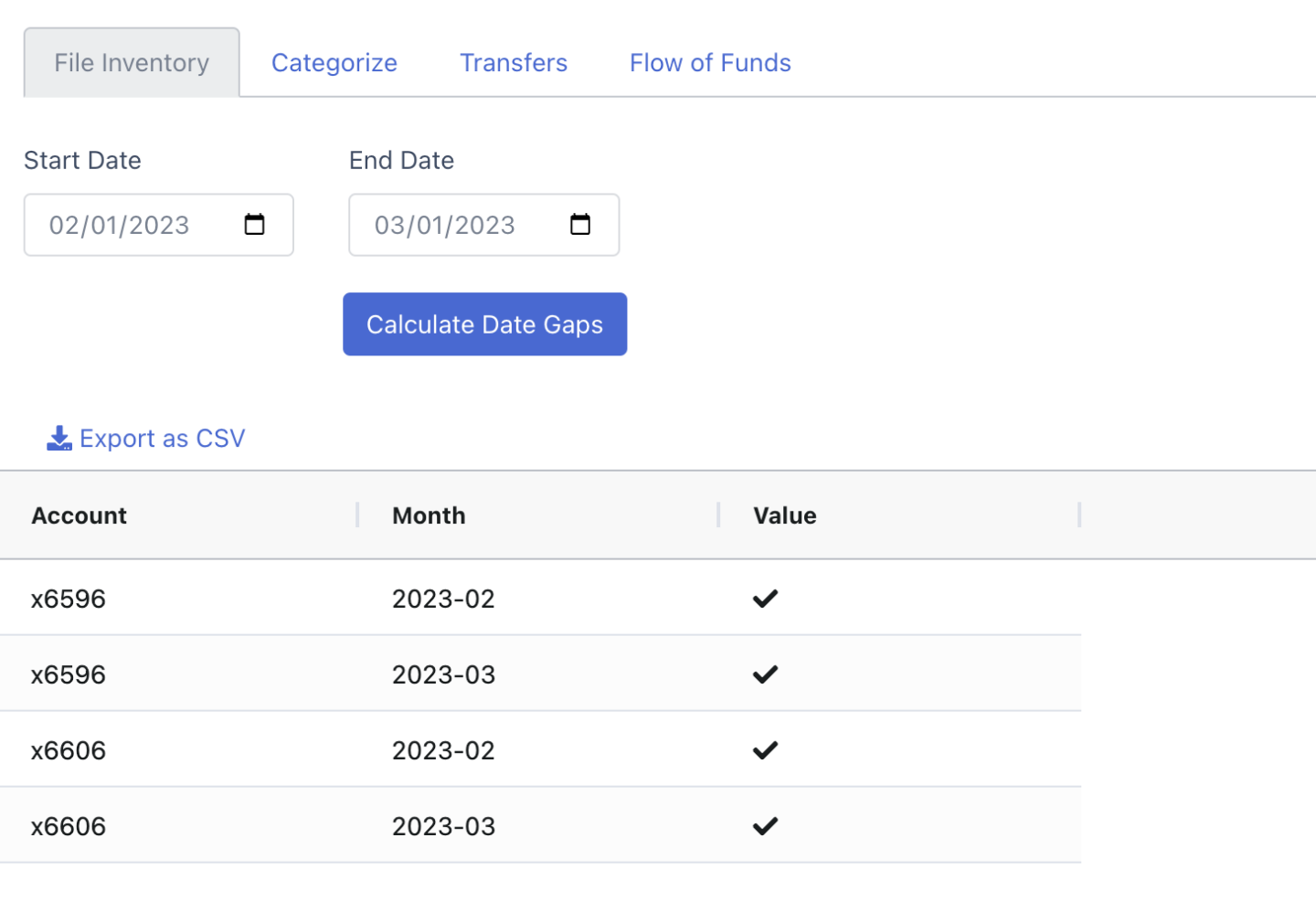 Simplified Transaction Categorization
Automatically categorize transactions using keywords, simplifying data analysis and interpretation.
Intelligent Transfer Detection
Our system identifies transfers between accounts, providing a clear and concise view of financial behaviors.

Visualize the Flow of Funds
Bring your data to life with visuals that clearly illustrate the flow of money across accounts.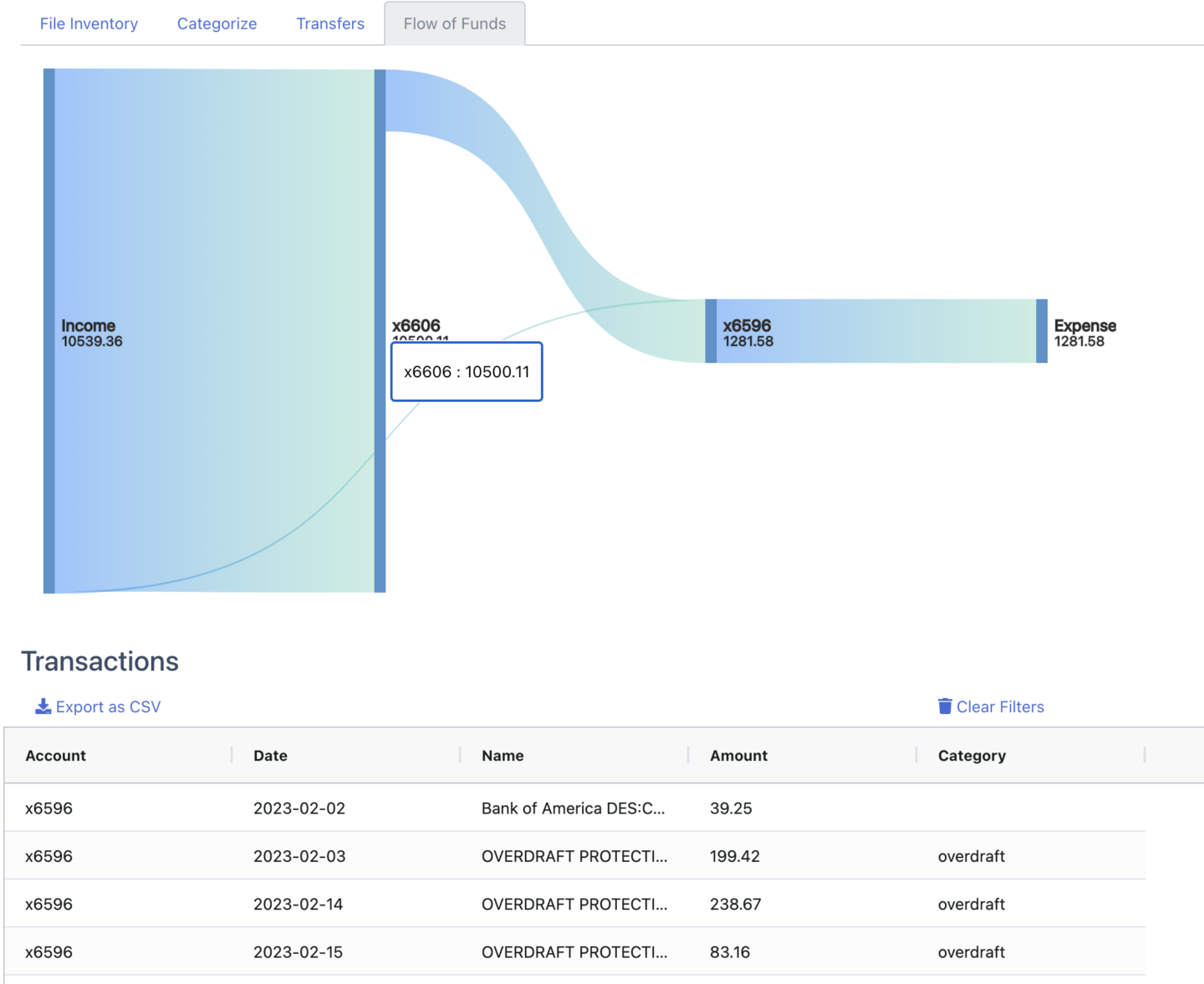 Seamless Integration with Leading Accounting Software
DocuClipper is integrated with your favorite accounting software.
DocuClipper's OCR solution seamlessly connects with QuickBooks, allowing you to import extracted financial data directly into your accounting system. Experience improved efficiency and productivity with this powerful integration.
Tap into the capabilities of DocuClipper's OCR solution by linking it with Xero. DocuClipper conveniently generates spreadsheets in a Xero-compatible format, allowing for a straightforward import of your extracted financial data into Xero.
Enhance your financial processes by connecting DocuClipper's OCR software with Sage. DocuClipper produces spreadsheets in a Sage-compatible format, enabling a seamless import of your extracted financial data into Sage, thereby bolstering overall business productivity.
The Best Bank Statement Converter
Responsive & knowledgeable support team that quickly solves any issue.
Take back control over a manual or outsourced process. Process years of bank statements in seconds, not days.
Very Accurate Conversions
Enjoy 99% accuracy in document conversion with our state-of-the-art OCR technology to that converts both scanned and text statements.
No installation or maintenance is required. Intuitive software, no training required. Thousands of our customers praise how easy is to use DocuClipper.
DocuClipper has passed an independent security review by Intuit. Data is encrypted at rest and in transit.
Simple pricing based on usage. No contracts. No hidden fees. No licenses. Upgrade, downgrade or cancel any time.
Try the #1 Bank Statement Converter
Free 14-day trial. No credit card required.
Frequently Ask Questions about DocuClipper Features