Are you curious about the state of accounting in 2023? Then look no further.
We've curated, vetted, and categorized a list of up-to-date stats below.
Click to jump to a category or keep reading for our best bookkeeping and accounting statistics.
Editor's Top 10 Accounting Statistics
Booking and accounting services are provided by a substantial majority of accounting firms, with 79% of them offering such services.
88,652: The number of accounting firms in the US.
There are 665,612 actively licensed CPAs.
There are approximately 1,550,000 accounting jobs in US.
10 to 15 years: Average time it takes for an employee to become a partner in accounting firms of all types.

QuickBooks Online is an industry standard with more than 5 million users worldwide.
QuickBooks Desktop has more than 3 million users worldwide.

Xero is used in over 180 countries by more than 3.7 million subscribers.
There are 34,525 people employed in the Forensic Accounting Services industry in the US.
Most accountants and auditors work in offices, but some work from home. Although accountants and auditors usually work in teams, some work alone. Accountants and auditors may travel to their clients' places of business.
General Accounting Statistics
72% of accounting and bookkeeping practices reported increased revenue in the past 12 months" to highlight the growth seen across the industry.
29% of the companies have already implemented the automated accounts payable process to eradicate human labor and increase accuracy.
The average accountant age is 43 years old.
There are about 243,385 students enrolled in Accounting in the USA.
Accounting is the 10th most popular degree in America, with 51,697 students receiving their bachelors degree last year. It just beat out #11 Teacher Education and Professional Development, and narrowly lost to #9 Communication and Media Studies.
The degree is offered at a total of 1,134 colleges across the nation, and is the 11th most widely offered degree. Given that accounting is offered at 29% of the Top 100 Best Colleges in America.
Accounting diplomas received last year 80,364.
It is also worth noting that just below 1 out of every 2 colleges offering accounting are public making it a pretty accessible field.
Offering new and more services to clients is cited as a leading reason for increases in revenue and profits, respectively, over the past 12 months. On average, accounting and bookkeeping practices offer around six services to their clients.
56% report that increasing the number of services provided, increasing automation of manual tasks 38% and streamlining internal processes 38% are some of the reasons their practices have experienced increased profits.
Accounting Industry Statistics
51% of firms said their biggest challenge is keeping up with regulatory change.
The estimated revenue generated by accounting services in the United States reached almost 145 billion U.S. dollars in 2023, up from roughly 144.2 billion U.S. dollars in 2022. The revenue generated by this service was the highest it had ever been in 2022.
56% of accounting and bookkeeping companies increased profit by increasing number of services they provide.
Bookkeeping is still offered by 90% of practices, advisory is also offered by 70% of practices.
On average, practices have acquired 31 new clients, with large practices reporting an increase to their client base on average by 131 clients.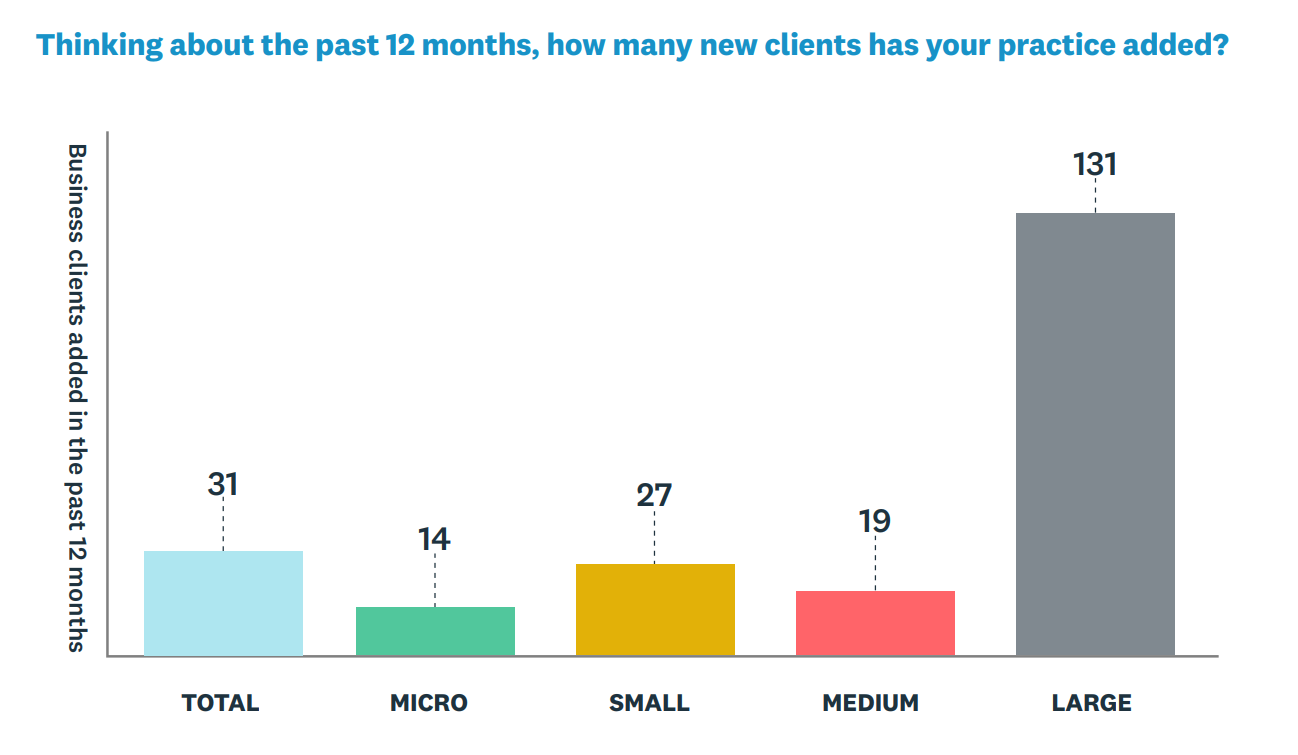 Accounting Employment Statistics
The market size of an accounting industry in US is $145 billion.
Employment of accountants and auditors is projected to grow 6 percent from 2021 to 2031, about as fast as the average for all occupations.
The median annual wage for accountants and auditors was $78,000. The lowest 10 percent earned less than $48,560, and the highest 10 percent earned more than $132,690.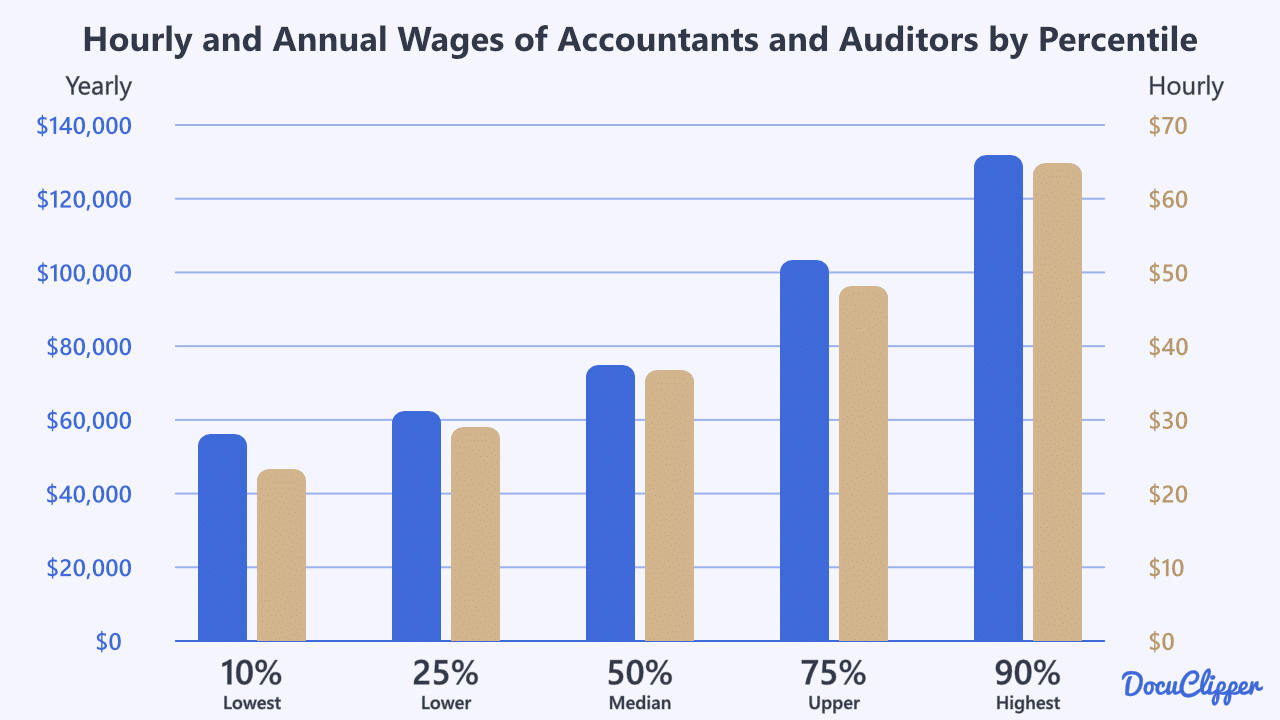 California leads the nation with over 157,000 accountants and auditors employed within the state. This represents nearly 10% above the national average concentration of accounting jobs and the highest total number of accountants employed across all 50 states. While New York and Texas also employ over 100,000 accountants each.
56.8% of certified public accountants are women and 43.2% of certified public accountants are men.

The average Entry Level Accountant salary in the United States is $61,748 as of , but the salary range typically falls between $52,064 and $73,774.
There are 665,612 actively licensed CPAs.
Work From Home Accounting Statistics
Nearly eight in 10 (79%) staff wanted to be able to work from home or have a hybrid model after the pandemic.

The reasons why accountants want to work from home. The most common reasons why accountants want to work from home are to save time and money on commuting, to have a more flexible work schedule, and to improve their work-life balance.
Some of the challenges of working from home as an accountant include staying organized, managing distractions, and maintaining communication with colleagues.
Accounting Software Statistics
95% of accounting practices said they embraced cloud-based software to some degree.
The majority of practices (63%) feel their client services have improved with the implementation of cloud-based software.
Xero is used in over 180 countries by more than 3.7 million subscribers.
QuickBooks Online is an industry standard with more than 5 million users worldwide.
On average, 53% of practices' client base are using cloud-based accounting software.
QuickBooks Desktop has more than 3 million users worldwide.
Quicken has currently over 2 million active users.
67% of accountants prefer cloud-hosted accounting solutions over on-premise software.
Latest accounting software statistics reveal that 58% of enterprises were using cloud accounting solutions.
Accounting market is expected to grow to $1,009.51 billion in 2026 at a rate of 11.4%.
75% of practices using cloud for more than one task have seen increased profit in the past 12 months, versus only 39% of those who use cloud for a single task.
Small Business Accounting Statistics
60% of small business owners feel they aren't knowledgeable when it comes to accounting.
14% of small business owners think accountants could do more to reduce their taxes.
21% of SMBs owners admit to not knowing enough about bookkeeping.
Around 70% of small businesses don't have an accountant.

Forensic Accounting Statistics
There are 34,525 people employed in the Forensic Accounting Services industry in the US.
The number of people employed in the Forensic Accounting Services industry in the US increased 2.9% on average over the five years between 2020 and 2025.
The average Forensic Accounting Services business in the US has 6.5 employees.
There are 5,079 Forensic Accounting Services Businesses in the US.
California (7,343 businesses), Florida (4,489 businesses) and Texas (4,207 businesses) are the States with the most number of Forensic Accounting Services businesses in the US.
The highest costs for business in The Forensic Accounting Services industry in the US as a percentage of revenue are Wages (49.3%), Purchases (2.3%), and Rent & Utilities (3%).
The market size, measured by revenue, of the Forensic Accounting Services industry was $9bn in 2024.
The average wage per employee in the Forensic Accounting Services industry is $34,525
Related Information
Looking for more statistics? Check out these resources:
Or use these resources to learn more about accounting and bookkeeping processes:
Sources: