Getting your historical bank and credit card transactions into QuickBooks Desktop is critical for having accurate books. However, manually importing transactions can be tedious – with countless PDF statements, confusing CSV files, and manual data entry.
But it doesn't have to be so difficult. This article outlines how to manually import bank transactions into QuickBooks Desktop.
We'll cover downloading transaction histories, converting statements into QuickBooks-compatible formats, uploading into accounts, categorizing transactions, and reconciling.
Follow our step-by-step instructions to effortlessly import your essential bank and credit card information into QuickBooks Desktop. This will get your financial reporting organized.
FYI, if you're using QuickBooks Online, also check out our article about how to manually import bank transactions into QuickBooks Online.
When Manual Importing is Needed
While you can connect your bank and credit card accounts to QuickBooks Desktop for automatic transaction downloads in some cases, that's not always possible or preferred.
You may need to manually import transactions instead when:
Your bank doesn't integrate with QuickBooks Desktop – Not all banks support transaction downloads into the software. For those banks, manually importing is your best choice.
You want historical transaction data – When first setting up QuickBooks Desktop for bookkeeping, you likely want transactions from the past year or more. Bank feeds may have limited history, so manual imports allow full transaction history.
You have data from multiple sources – Beyond bank transactions, you may need payroll, cash expenses, or other data from places other than your bank. Manual importing enables consolidating transactions from various sources.
You prefer periodic uploads for control – Some businesses like to manually export and import transactions to review and categorize everything first. This allows for more control over the process.
The key benefit of getting transaction data into QuickBooks Desktop, automatically or manually, is having complete, precise records of cash flow. This is vital for reconciling accounts and generating financial reports.
Manually importing takes more effort but provides flexibility not always possible with direct bank feeds.
How to Manually Import into QuickBooks Desktop
Manually importing transactions into QuickBooks Desktop only takes a few steps. Follow best practices to ensure complete, accurate data.
For converting bank statements to Excel follow step 3.
Step 1: Downloading Bank Transactions
The first step is to access and download your transaction history from your financial institution's website:
Sign into your bank or credit card's website and access your account statements. Every bank's portal will be slightly different.
Follow the instructions to download transactions. This usually involves selecting a date range and file format.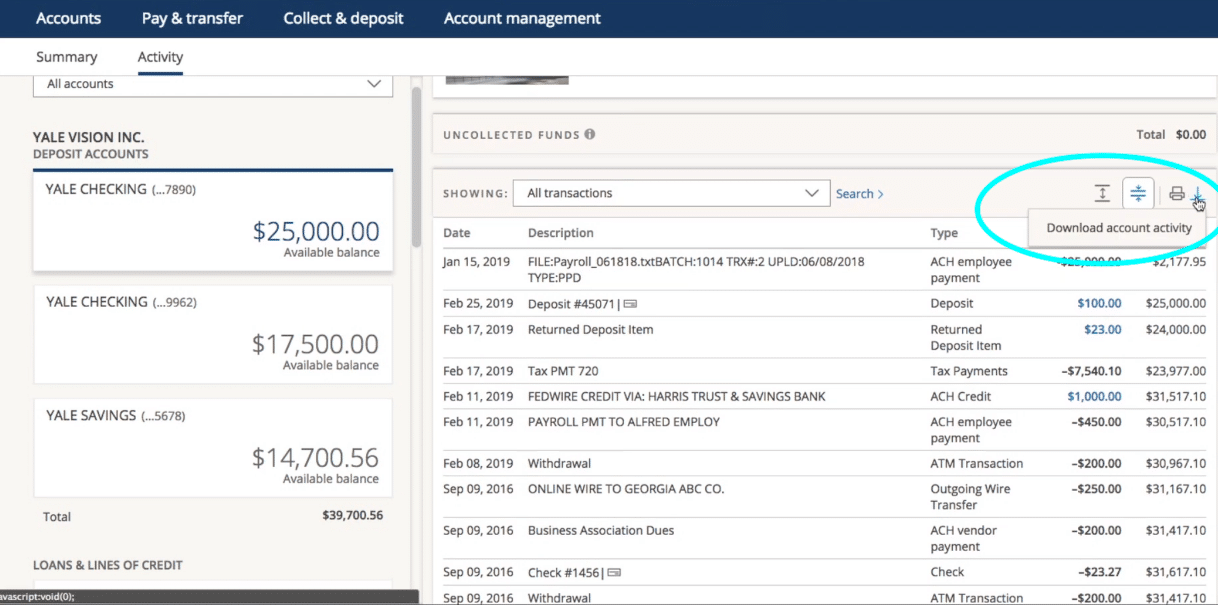 Note that the download process varies by bank. You may need to do some searching to find where your bank provides transaction downloads. Common options are PDF, CSV, Excel, and sometimes QBO file formats.
Step 2: Deciding the Date Range for Transactions
When selecting the date range for downloaded transactions, it's important to avoid duplicate entries in QuickBooks.
Set your download range based on what's already in QuickBooks:
For a new account not already in QuickBooks, download as far back as you need. Often this is the full past year or more of transactions.
For an existing account without any transactions imported yet, download back to the opening balance date when you set up the account.
For accounts already with transaction history imported, download from the day after your last imported transaction forward.
Step 3: Downloading and Converting Transactions
Once you've set the appropriate date range in your bank's portal, complete downloading the transaction file.
Save the file in QBO format if available, as this integrates most cleanly into QuickBooks Desktop.
Otherwise, save it in Excel CSV format. Both formats work for import.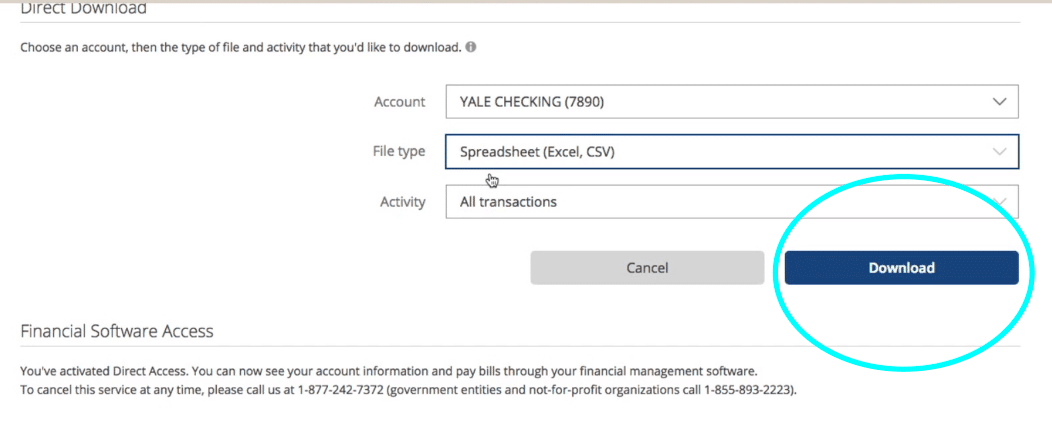 Converting PDF Bank Statements
Many banks provide transaction history in PDF format rather than Excel or CSV files. To import PDF bank statements into QuickBooks Desktop, you'll first need to convert them to a compatible file type like Excel or CSV.
DocuClipper allows you to automatically convert any PDF bank statements to QBO or even Excel and CSV.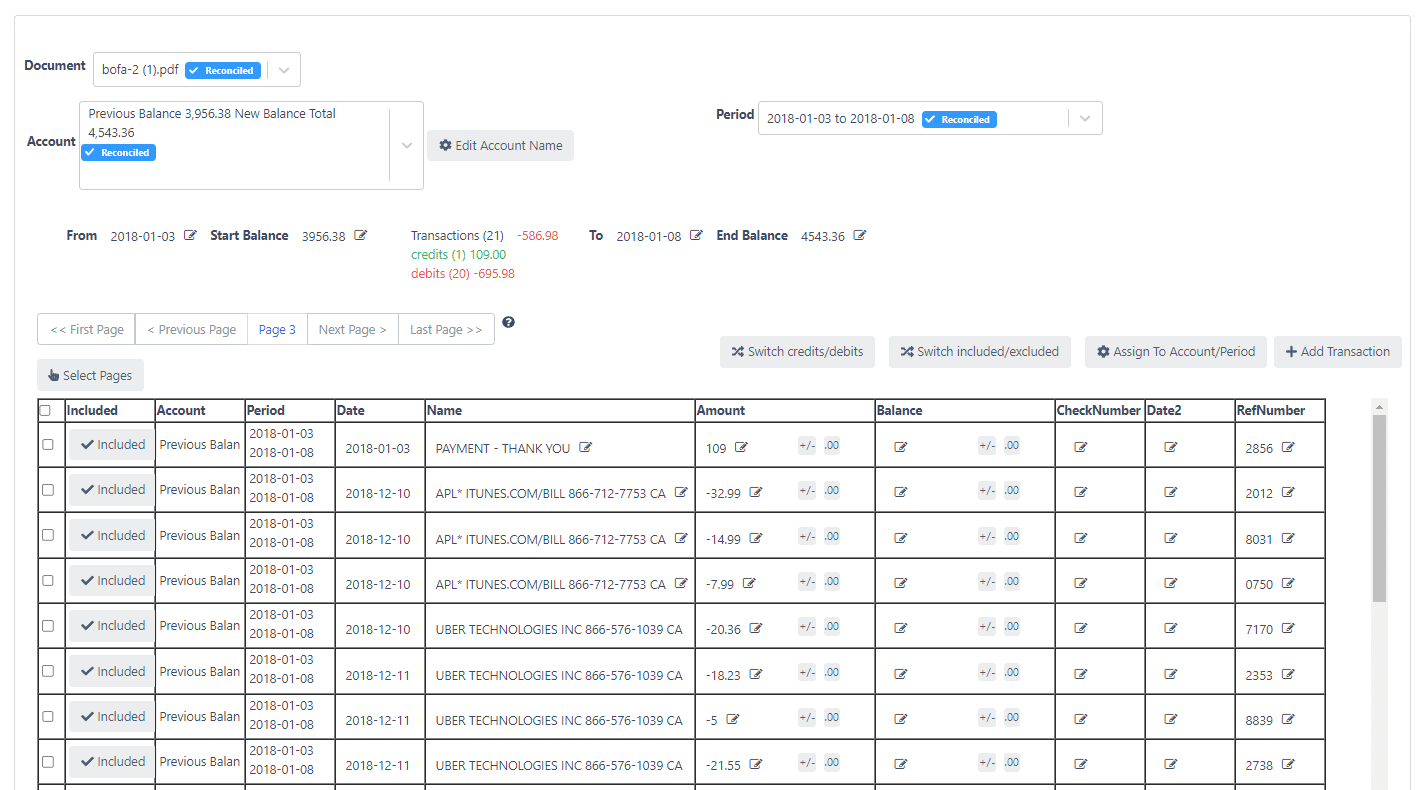 Read our guide on how to convert bank statements to Excel, CSV, or QBO to learn more.
The benefit of a tool like DocuClipper is it provides an automated way to convert PDF bank statements into formatted Excel, CSV, or QBO files compatible with QuickBooks Desktop. This streamlines the process significantly compared to manual conversion and data entry.
CSV to QBO Conversion
For banks that provide transaction downloads as CSV files but not QBO, you can use DocuClipper to instantly convert the CSV files into QBO format for a smoother import experience. (Visit how to convert CSV to QBO for QB Online and Desktop.)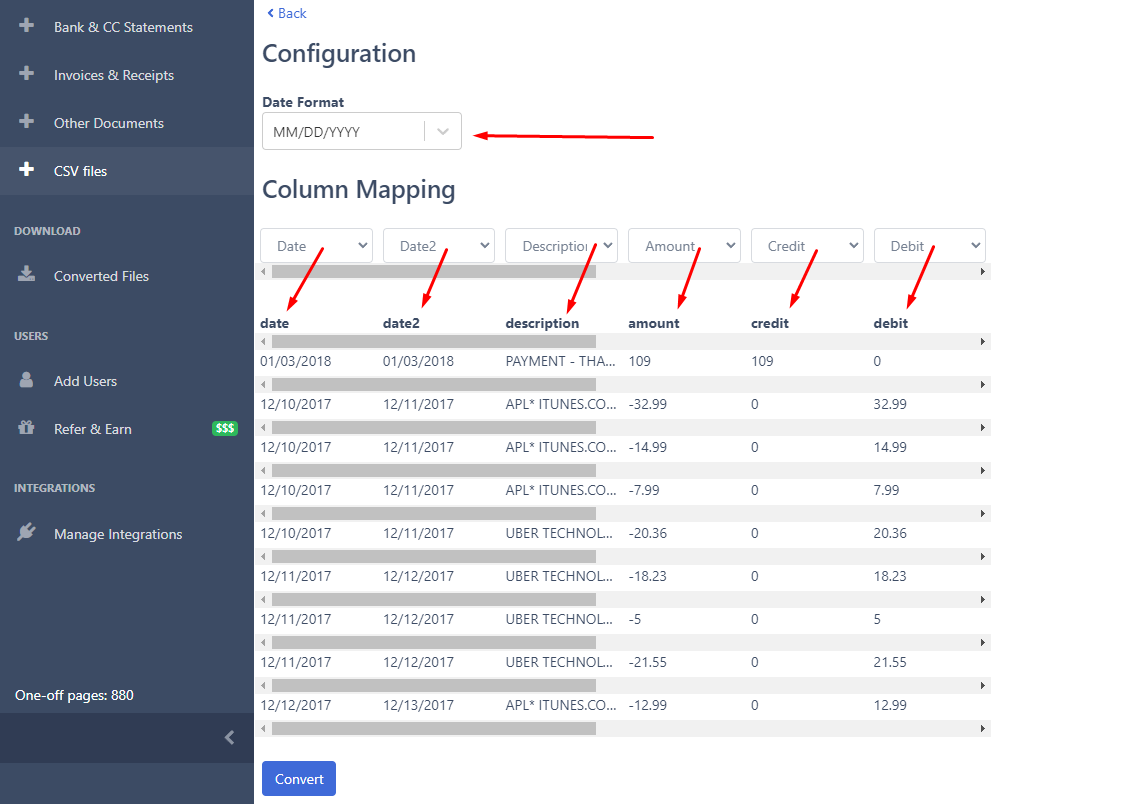 QBO files integrate directly into QuickBooks Desktop with the appropriate headers and formatting, reducing the chance of errors during import.
Step 4: Review the Transactions
Before importing your downloaded bank transaction file into QuickBooks Desktop, it's important to open and review the contents first.
Verify the file is in the correct format – it should be either QBO, Excel, or CSV. Scan for any formatting issues that may cause import problems.
Check that the file size is under 350 KB – this is the maximum for bank transaction imports into QuickBooks Desktop. If over this size, shorten the date range and download transactions in smaller batches.
Review amounts, dates, and details for accuracy – spot-check transactions against your bank statements to ensure no discrepancies.
Reconciling with DocuClipper
If you used DocuClipper to convert PDF bank statements, it automatically reconciles bank statements the converted Excel/CSV/QBO file against the original PDF as part of its accuracy verification. This reconciliation catches any conversion errors.
You can also easily update any required transactions within DocuClipper before downloading the converted file. This streamlines corrections.

And once done, then you can download the bank statements into your preferred output format.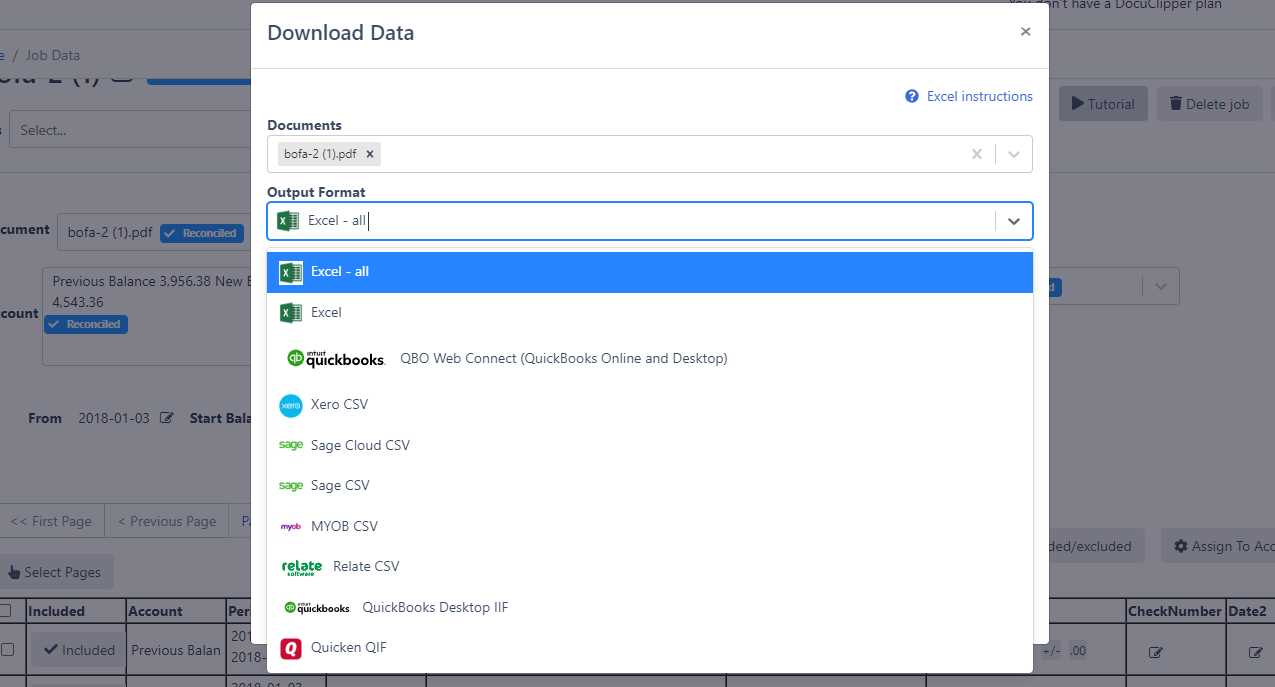 As well as customizing the columns.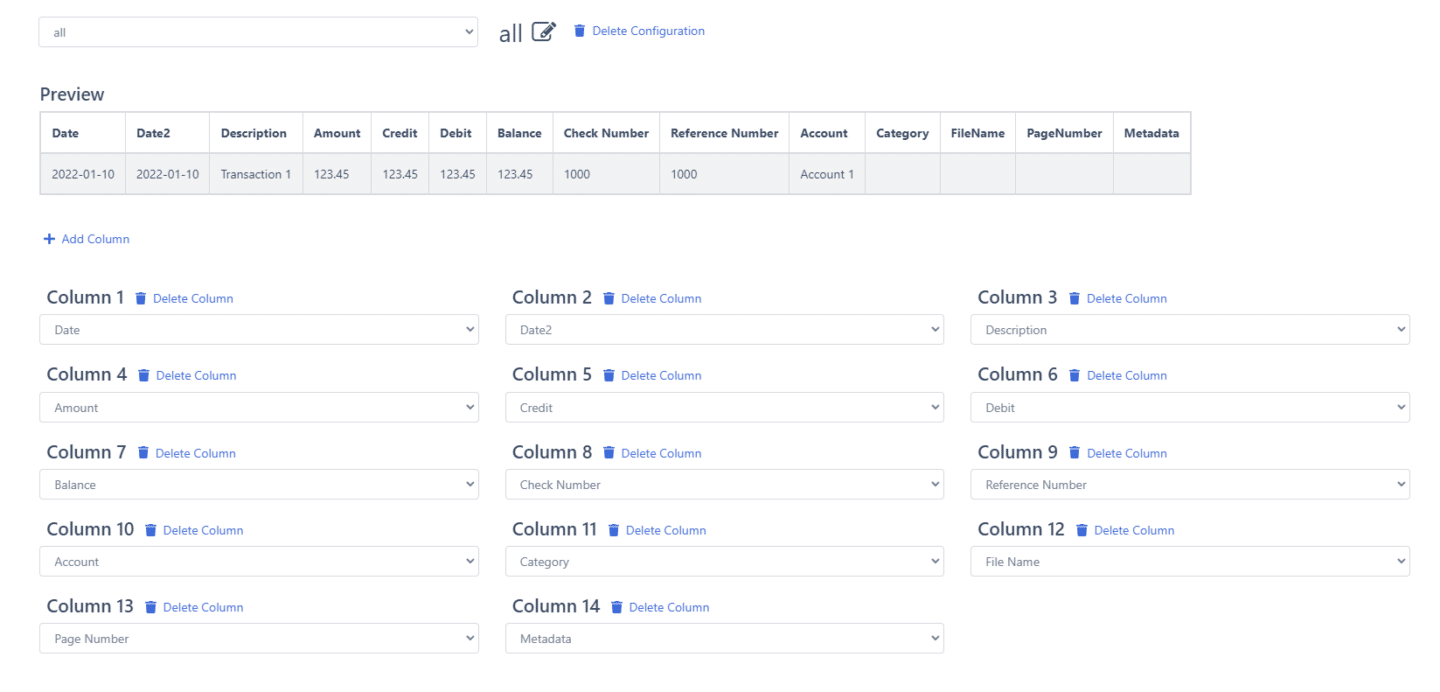 In summary, carefully reviewing your bank transaction file pre-import catches any formatting issues, data inaccuracies, or file size problems before uploading into QuickBooks Desktop.
Services like DocuClipper further assist by automating reconciliation during conversion and enabling transaction edits.
You can also visit our detailed articles on:
Step 5: Uploading Transactions to QuickBooks Desktop
Once you have the Web Connect file follow these steps to import the transactions into QuickBooks Desktop.
Before importing, make sure that the account you need to import into doesn't have the yellow strike icon. Click 'Lists' – 'Charts of Accounts'.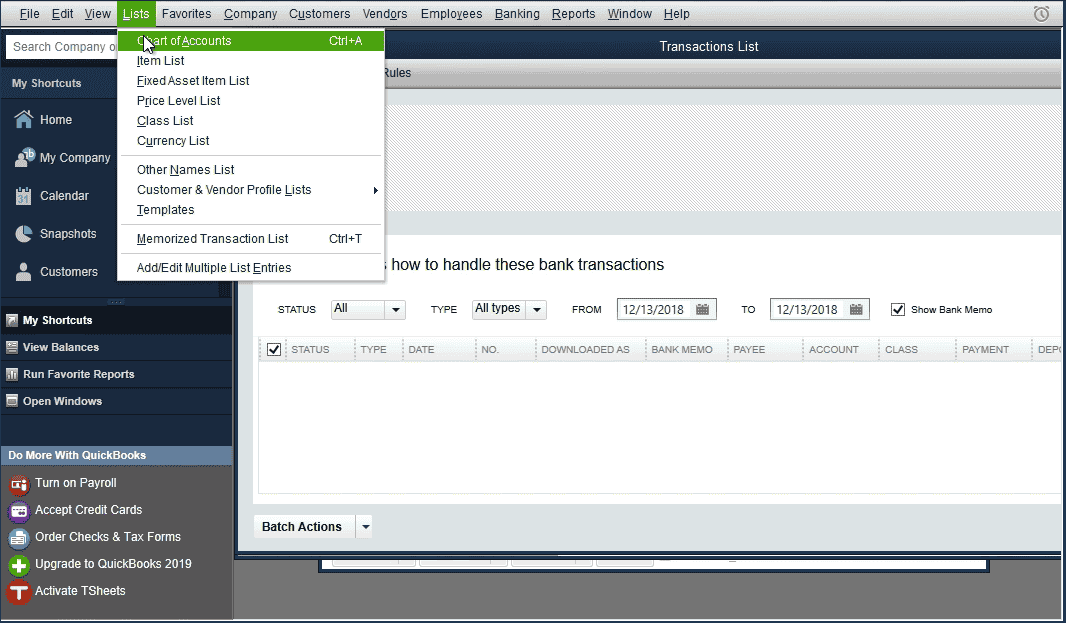 If you have the icon, it means the account is online linked to direct download. You need to disconnect first to import a Web Connect file.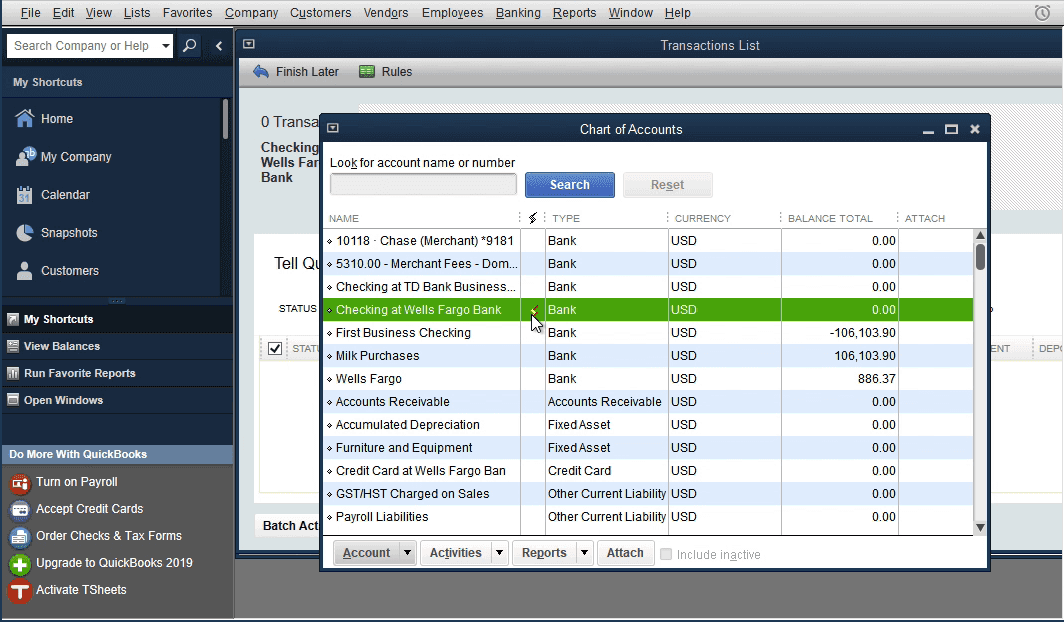 To disconnect, right-click – 'Edit Account'.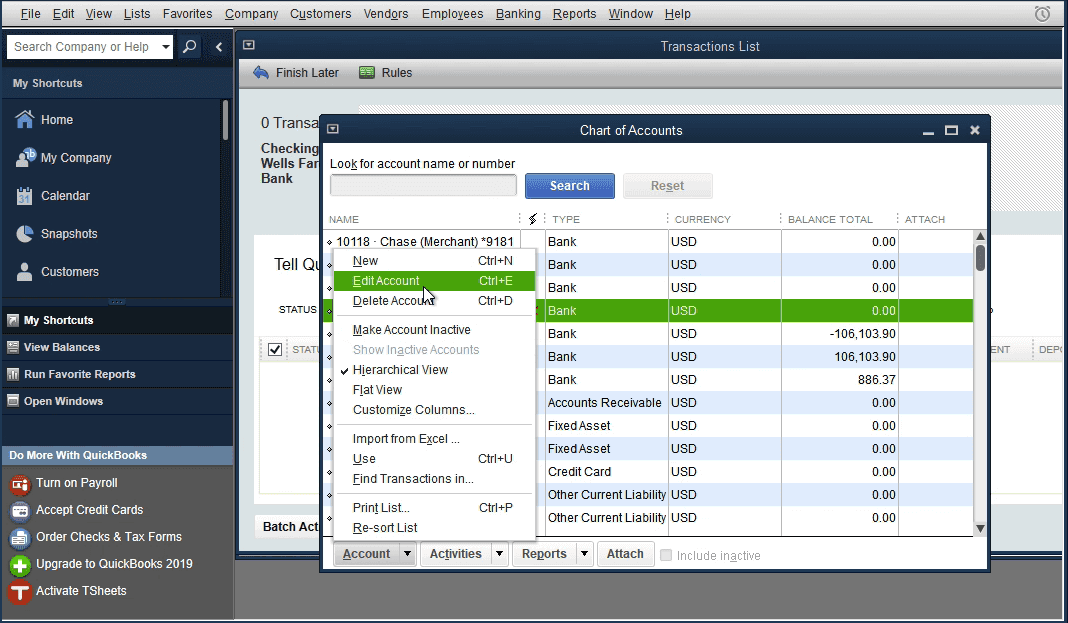 Then click on 'Bank Feed Settings' and 'Deactivate All Online Services' first if needed. Check there is no yellow icon after the change. After disconnecting the account from online services, you can import a Web Connect file.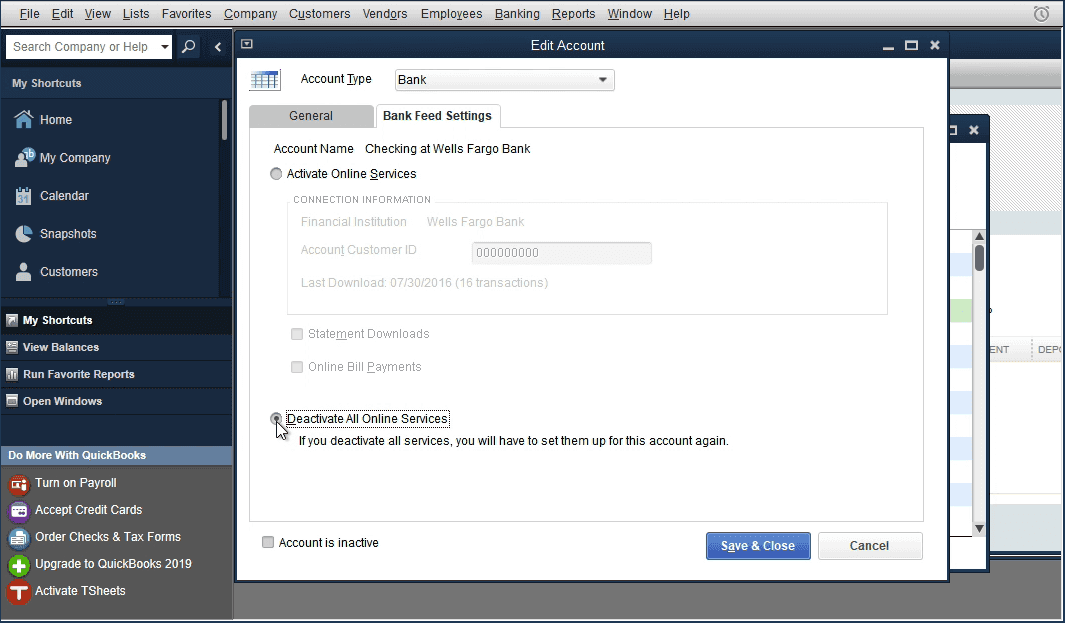 To import a Web Connect file, select 'File' – 'Utilities' – 'Import' – 'Web Connect Files', select created Web Connect file.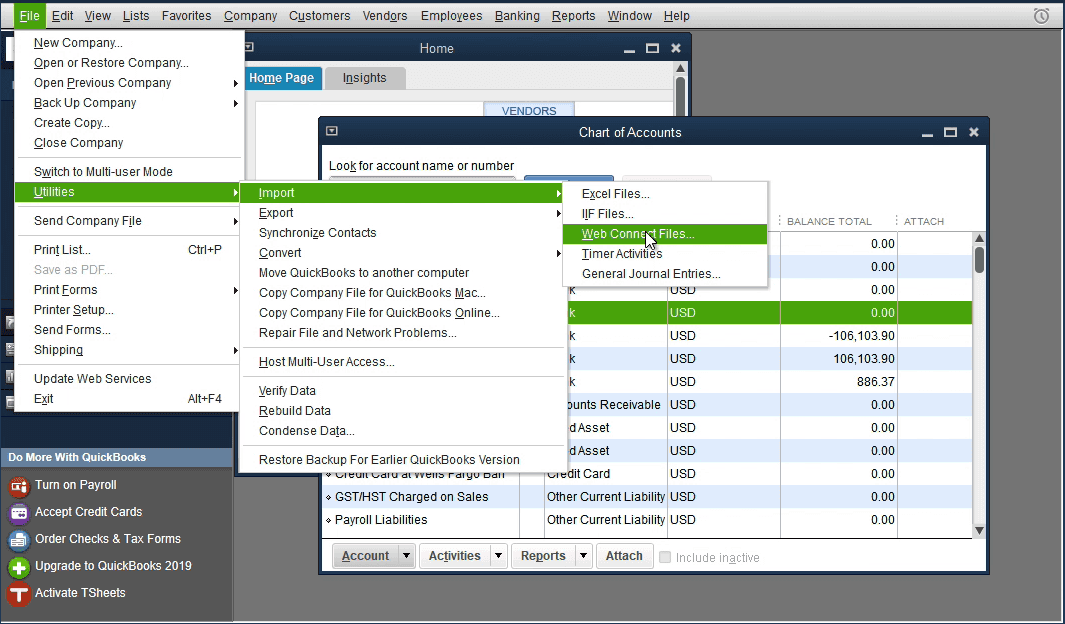 And select an existing account to import transactions. Check bank label, Account Type, Account number to select the correct Account in QuickBooks. Then click the 'Continue' button.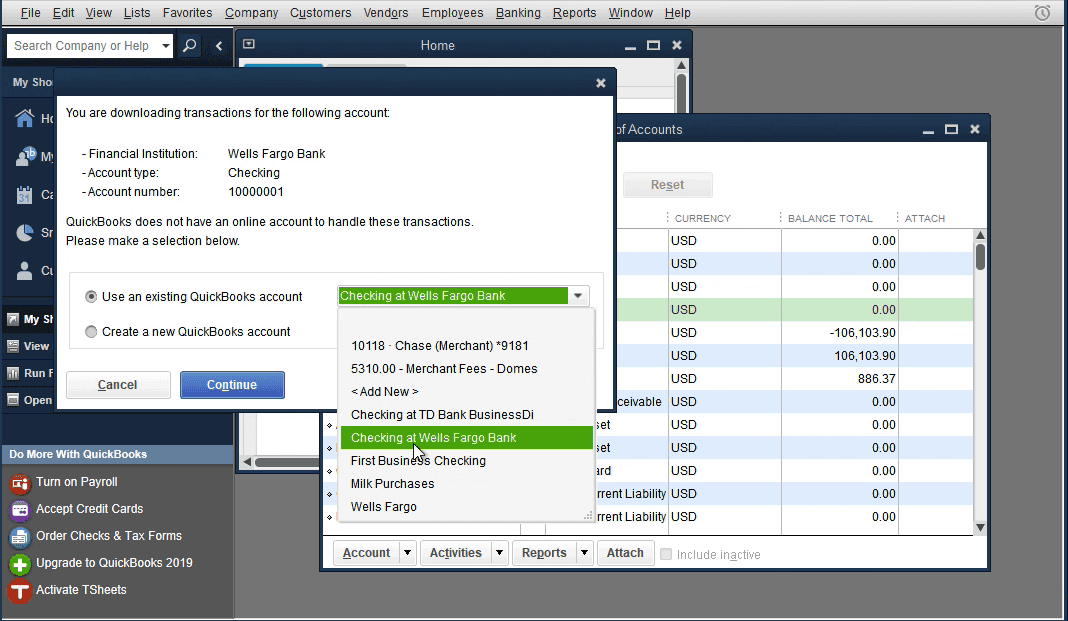 Now your data is imported.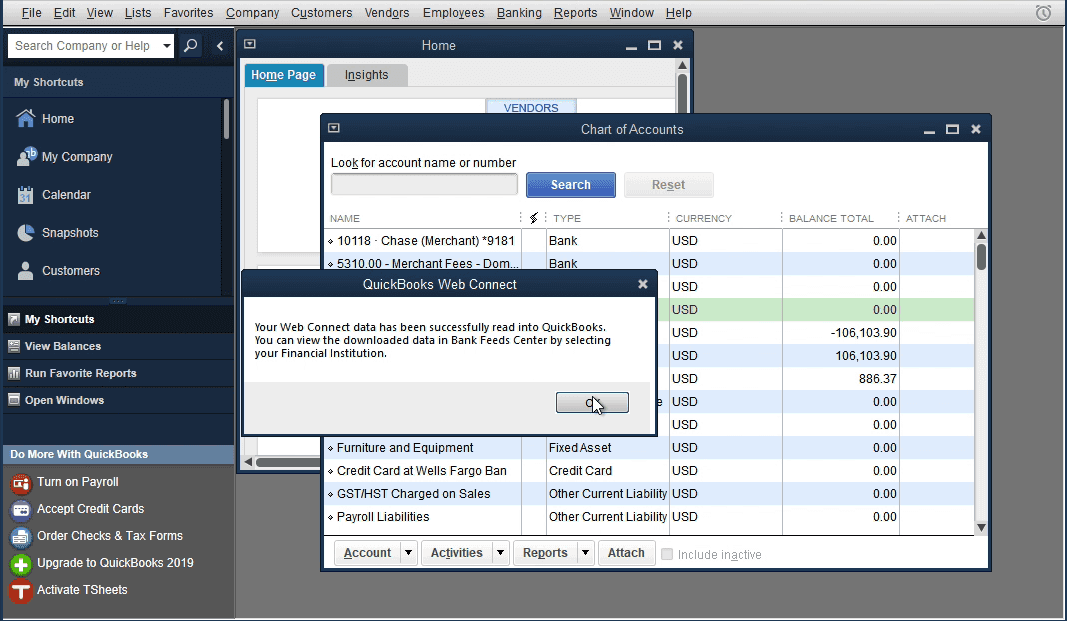 Click on 'Transaction List' to review transactions. Assign Vendor Records and expense/income accounts before adding transactions to the register.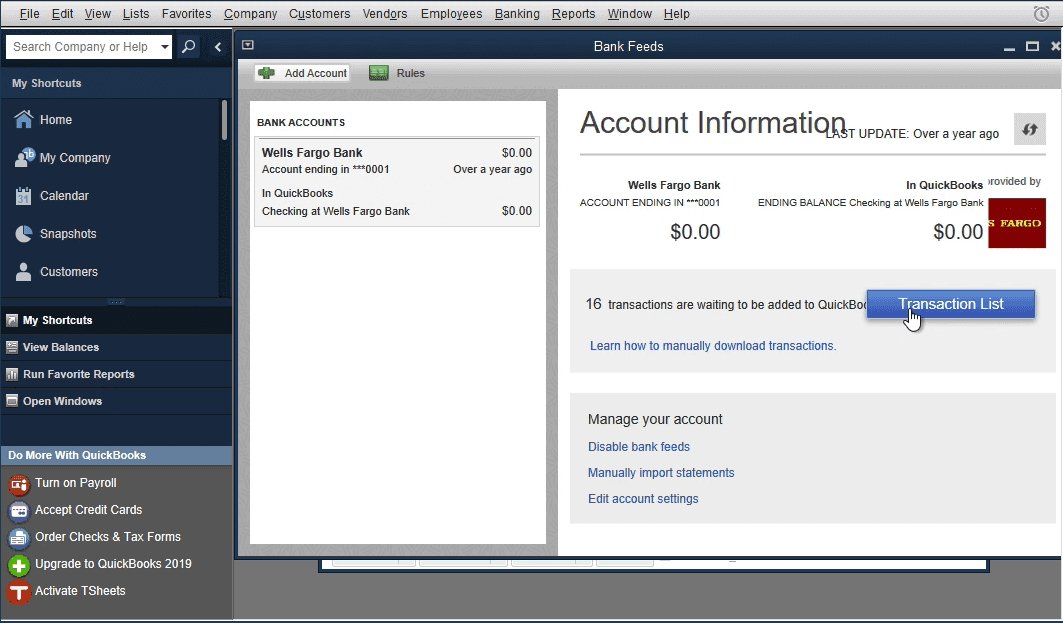 'Downloaded as' column shows Payee names from the Web Connect file. And the 'Payee' column is empty. It shows Vendor Records. When you choose a Vendor Record, for the Payee from the Web Connect file, QuickBooks will remember your choice for the next QuickBooks Web Connect import.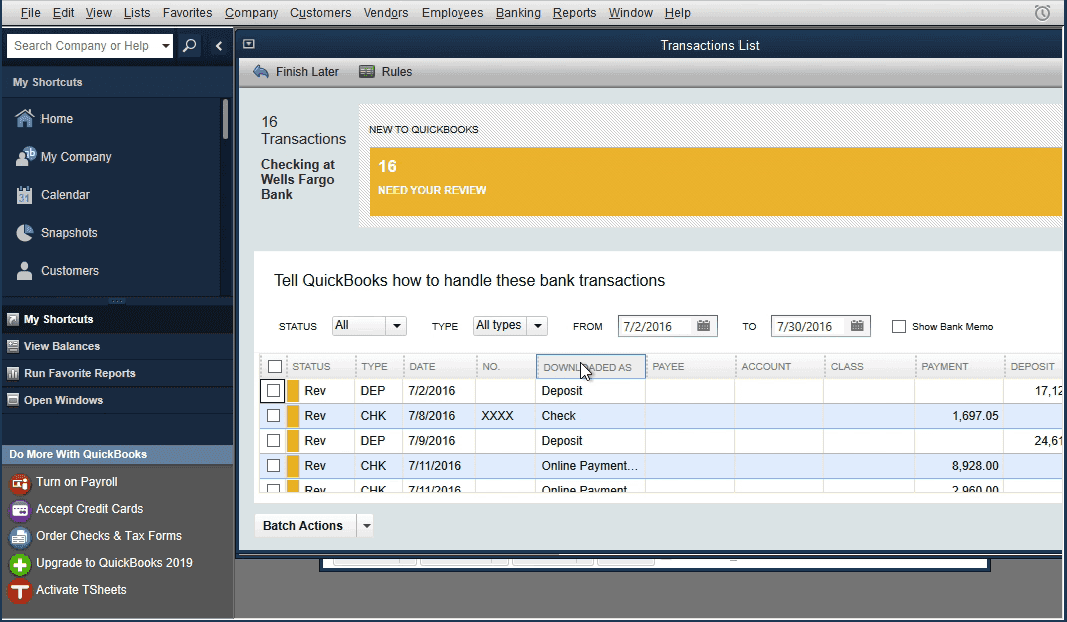 Click 'Show Bank Memo' to see the description to the 'Bank Memo' column.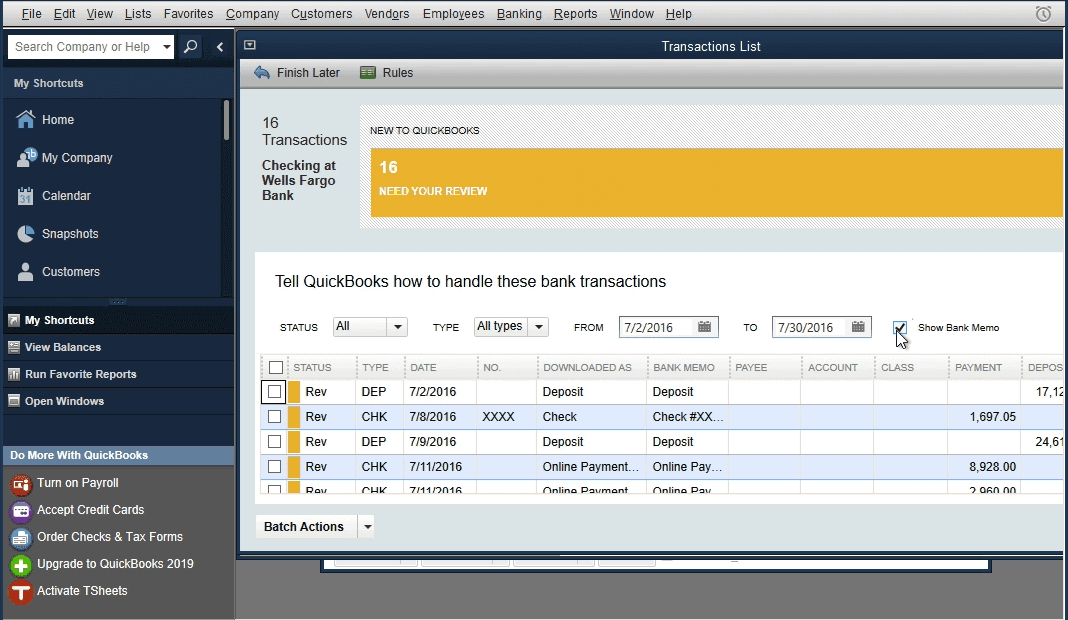 Once Vendor Records and Account are set, you can add transactions to the register. The rename rule creation dialog will show up after to use for the next time.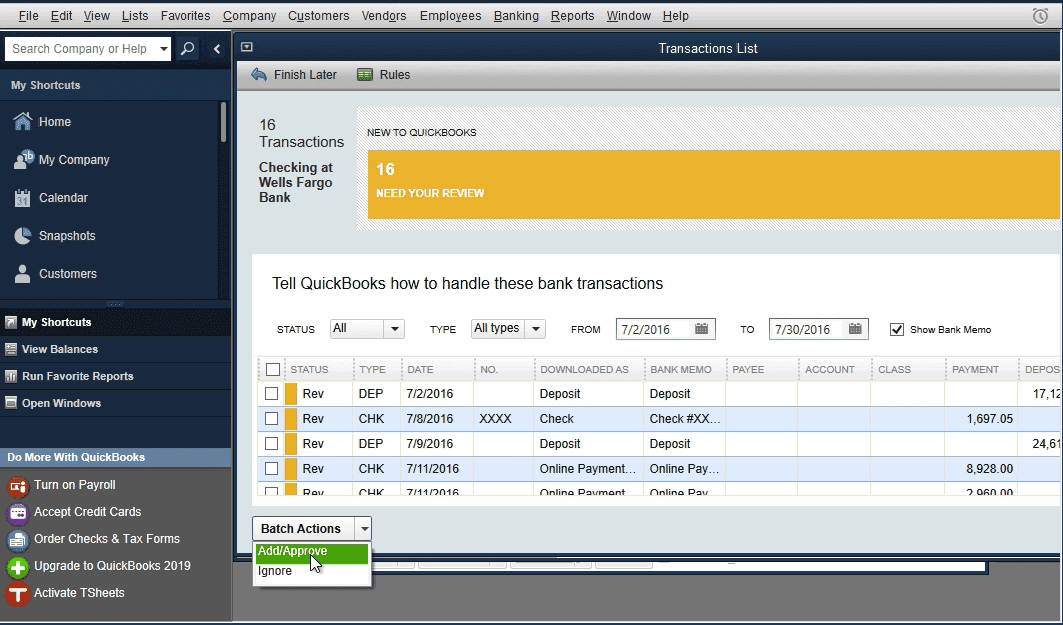 Conclusion
Manually importing bank and credit card transactions provides flexibility to get data into QuickBooks Desktop from any source, even unsupported financial institutions.
By following best practices around avoiding duplicate entries and carefully reviewing categorization, manual transaction import gives you the benefits of seamless financial data integration without reliance on direct bank feeds.
The ability to upload transaction history from multiple sources and control the timing of imports also makes manual import a strategic choice for many QuickBooks Desktop users.
Level Up Your Bank Transaction Imports into QuickBooks Desktop
Struggling with converting PDF bank statements or getting your exported CSV files into the right format for QuickBooks Desktop?
DocuClipper makes it fast and easy to convert your PDF and CSV transaction downloads into formatted Excel, CSV, or QBO files compatible with QuickBooks Desktop import.
Sign up for a free DocuClipper trial today to simplify your manual transaction imports.
Related FAQs to How to Import Bank Transactions into QuickBooks Desktop
In this section, we're going to answer commonly asked questions regarding to importing bank transactions into QuickBooks Desktop:
Can I import transactions into QuickBooks desktop?
Yes, you can import transactions into QuickBooks Desktop. To do this, download your transaction history from your bank's website in a QuickBooks-compatible format (QBO, CSV, or Excel). In QuickBooks, go to 'File,' then 'Utilities,' and select 'Import.' Choose 'Web Connect Files' and select your downloaded transaction file. Review and categorize the transactions before adding them to your register to ensure accuracy and completeness.
How to import bank transactions CSV file into QuickBooks Desktop?
To import a CSV file into QuickBooks Desktop, go to 'File,' select 'Utilities' and 'Import,' then choose 'Excel Files.' Browse and select your CSV file to upload. However, for a smoother experience, it's advisable to convert your CSV file to QBO format using tools like DocuClipper. This ensures optimal compatibility and minimizes the chances of errors during the import process, enhancing the efficiency of your financial management tasks.
What software imports transactions into QuickBooks desktop?
The best software to import transactions into QuickBooks Desktop is one that converts PDF or CSV files to QBO format, such as DocuClipper. Utilizing DocuClipper minimizes errors, ensuring transactions are imported seamlessly and accurately. This tool automates the conversion process, saving time and effort, and enhancing the reliability of your financial data within QuickBooks Desktop.
Can I import transactions from Excel to QuickBooks desktop?
Yes, you can import transactions from Excel to QuickBooks Desktop. Go to 'File,' select 'Utilities,' then 'Import,' and choose 'Excel Files.' Open your Excel file and follow the prompts. For optimal integration, it's better to convert your Excel file to QBO format before importing. This conversion ensures a more seamless and error-free import, enhancing the accuracy and reliability of your financial data in QuickBooks Desktop.
Can I convert CSV file to QBO?
Yes, you can convert a CSV file to QBO for a more seamless import into QuickBooks Desktop. Tools like DocuClipper allow for quick and accurate conversion from CSV to QBO, ensuring your financial data is correctly formatted and compatible with QuickBooks. This process minimizes errors and streamlines the import process, allowing for efficient and reliable management of your financial transactions in QuickBooks Desktop.
Related Articles