DocuClipper allows users to extract data from documents with ease. However, there might be instances where you exceed the page limit of a document you're working on. This article will guide you on what happens when you exceed the page limit and how you can add more pages to your document in DocuClipper.
Adding More Pages for Converting #
If you need to add more pages for converting beyond the set limit, there are a few steps you can follow. Please note that adding more pages might require an upgrade or change in your subscription plan.
Check Your Subscription Plan: Your current subscription plan determines the page limit for your documents. If you frequently exceed this limit, you might want to consider upgrading your plan.
Upgrade Your Plan: If you decide to upgrade, you can do so through your account settings. Upgrading your plan will increase your page limit and allow you to add more pages to your documents.
Add Pages: Once you've upgraded your plan, you will get more pages for conversions. Simply go to the document you're working on and add the additional pages as needed.
How to Add More One-Off Pages: #
Navigate to "Settings" by clicking your name on the top right of the DocuClipper dashboard.
Select "Plan & Billing" in the menu next to the sidebar menu.
Here click on the "Buy Pages" button.
Select the number of one-off pages required.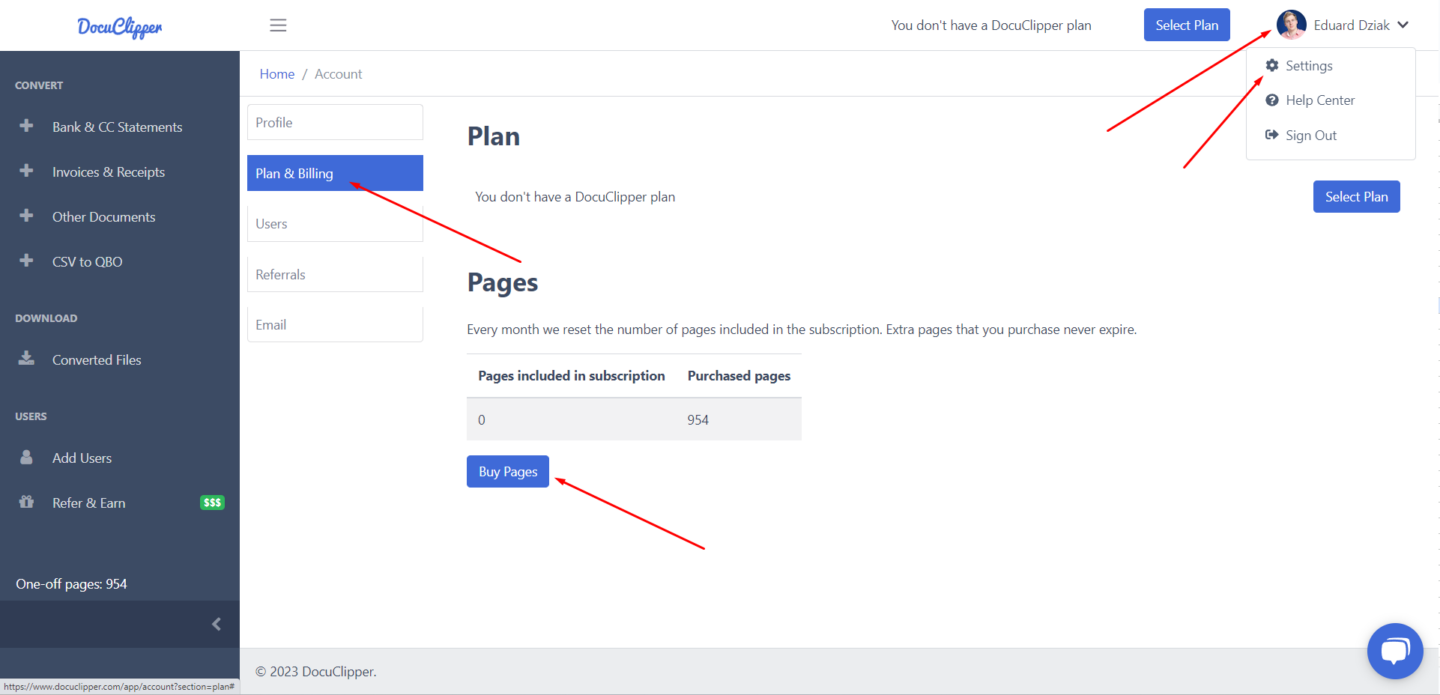 Upgrading Your Plan for More Pages #
If you find that your needs exceed the current page limit set by your DocuClipper subscription, upgrading your plan can be the perfect solution. Upgrading not only provides you with a higher page limit but also unlocks additional features that can enhance your data extraction experience.
Please note that DocuClipper's pricing structure is primarily based on the number of pages. As such, if you exhaust your page quota and subsequently decide to upgrade your account, please be aware that refunds are not available. This is because your quota is determined by your subscription and is set for each billing cycle.
If you anticipate needing more pages but have already paid for your current subscription, don't worry. We're here to help. Reach out to us at support@docuclipper.com. Our dedicated support team will assist you in upgrading your account and replenishing your page quota based on your newly selected subscription plan.
How to Upgrade Your Plan #
To upgrade your plan, click on Select Plan
Select the plan that you would like to.
Select a monthly or yearly subscription.
Enter your phone number or click on the "X" icon.
Enter your credit card details or select Google Pay and click on "Subscribe".