Reconciling bank statements and converting data to Excel or other accounting systems is a key feature of DocuClipper. However, you may encounter issues where the statement isn't reconciling due to conversion errors. This article will guide you on how to troubleshoot and resolve these issues.
Understanding Reconciliation Issues #
When DocuClipper finishes processing the statements, it adds up all the transactions and compares the totals with the beginning and end balances on the statement. If everything matches, DocuClipper displays a blue "Reconciled" box. Otherwise, it shows a red "Not Reconciled" box, indicating there may be missing or incorrect transactions.
How to Resolve Reconciliation Issues #
To resolve reconciliation issues, follow these steps:
Review the Transactions: On the left-hand side, you'll find a table with all the transactions. Go through the transactions until you locate the problem.
Correct Errors: If you find a transaction with incorrect data, fix it by correcting the values. For example, if the amount is wrong, enter the correct amount. Each time you make a correction, DocuClipper reconciles the statement again.
Add Missing Transactions: If a transaction is missing, you can manually add it by clicking on "Add Transactions". Enter the date, description, and amount, and click on "Add Missing Transaction".
Select Transactions for Output: You can select which transactions are included in the output by checking and unchecking the box in the first column of each transaction.
Download the Data: Once the document is reconciled, you're ready to download the data. Click on "Download Data", select the output format (for example, Excel CSV), and then click on "Download CSV". The spreadsheet will download to your computer.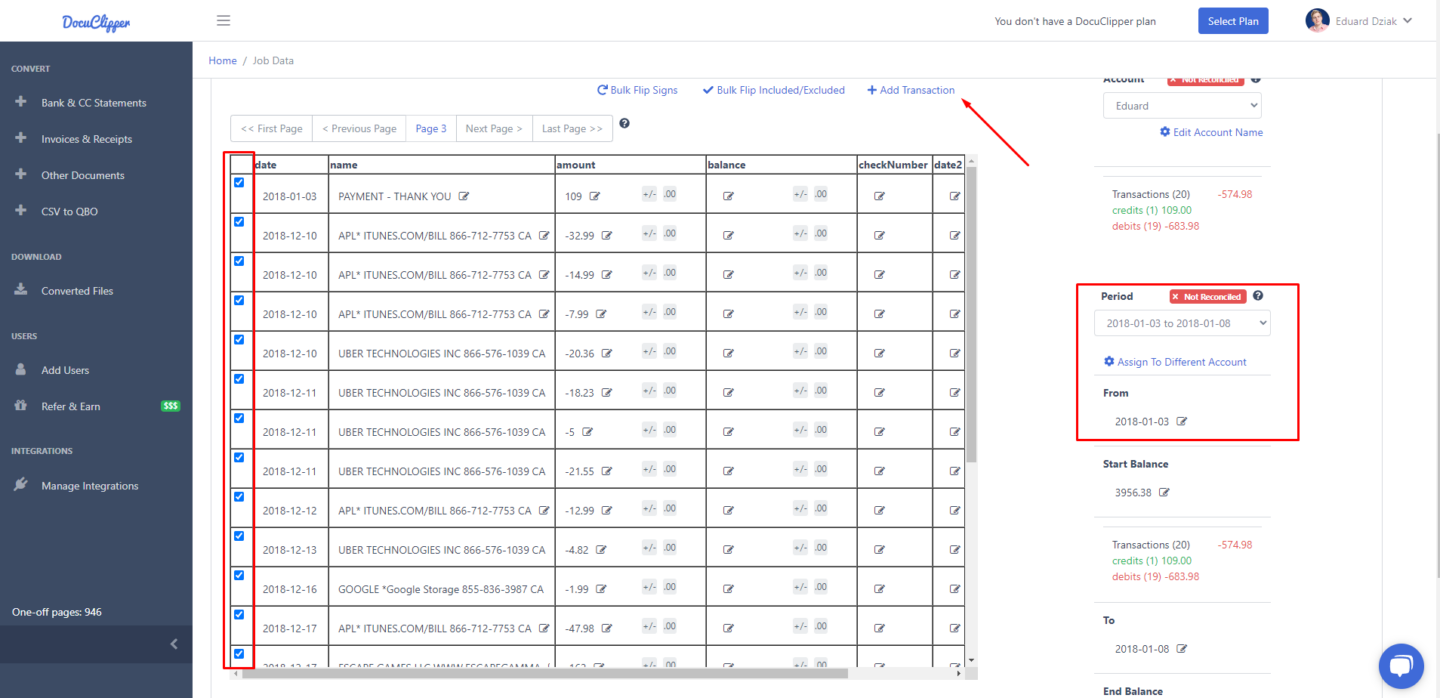 Conclusion #
Reconciliation issues in DocuClipper can be resolved by reviewing and correcting transactions, checking discarded lines, and adding missing transactions. By taking these steps, you should be able to successfully reconcile your statements and download your data. If you continue to experience difficulties, don't hesitate to reach out to our support team at support@docuclipper.com.