The DocuClipper Transaction Categorization feature allows you to define categories and automatically categorize transactions based on keywords. This can help organize and analyze your transaction data.
How to Categorize Transactions with Keywords #
Follow these steps to set up custom categories for transaction categorization:
Click the "Add New Category Group" button at the top right to create a new group.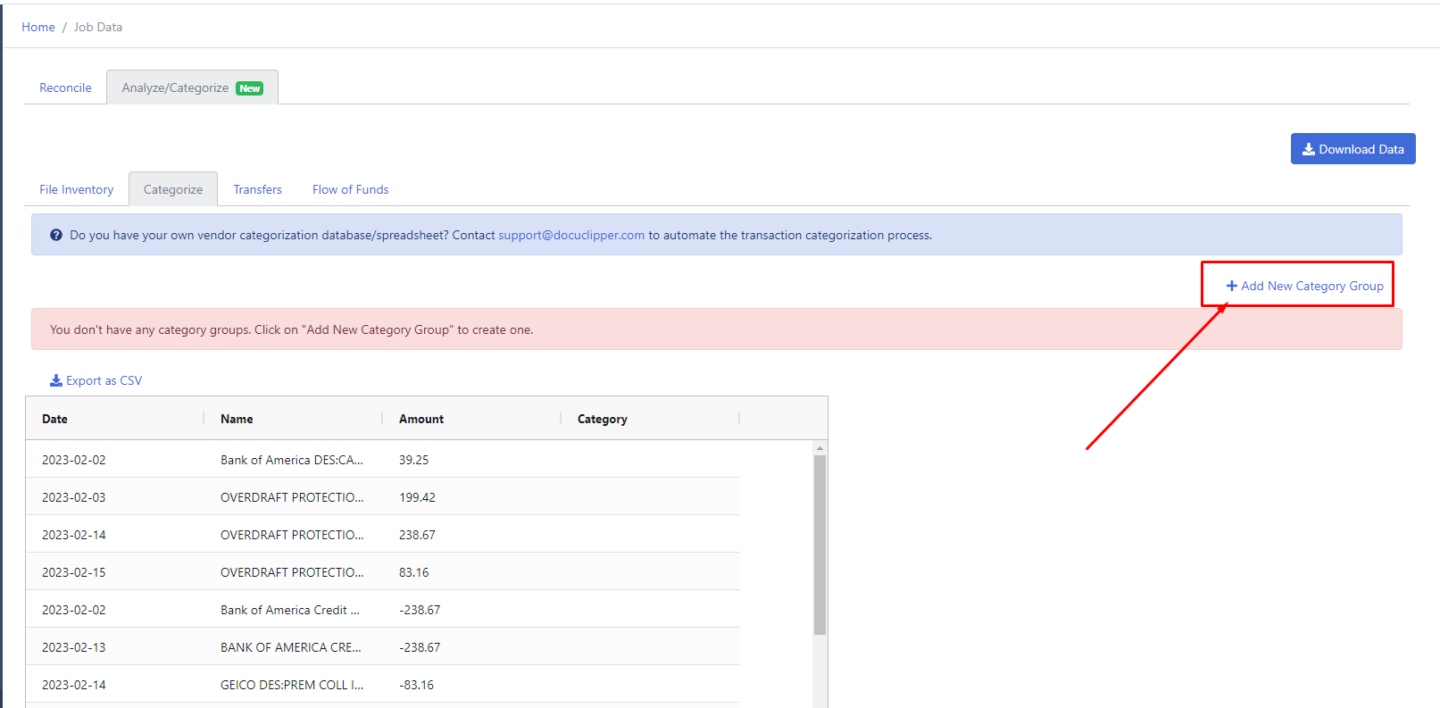 Name the category group (e.g. "Finance") and click on the "Add New Category Group" button.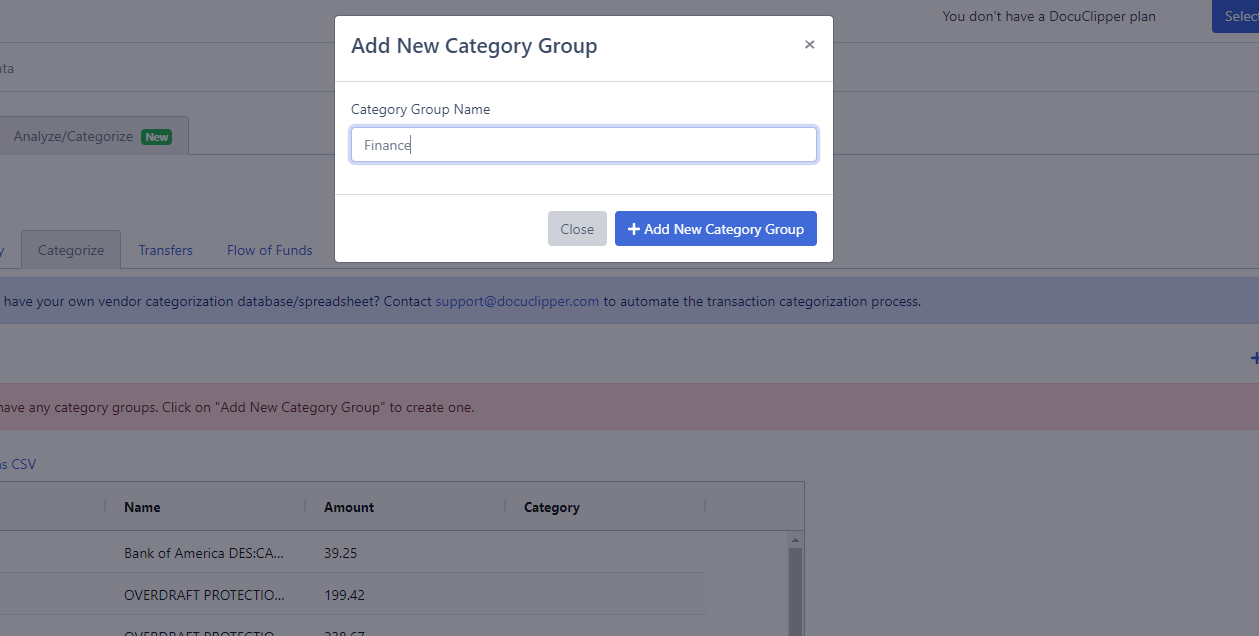 A new dropdown, pie chart, and table with the category group name will appear. Note: Every new category group and category within will stay safe in your account and you will be able to reuse it for other bank statements as well.
Now, to add categories to the category group click "Configure" button to open the Categories pop-up window.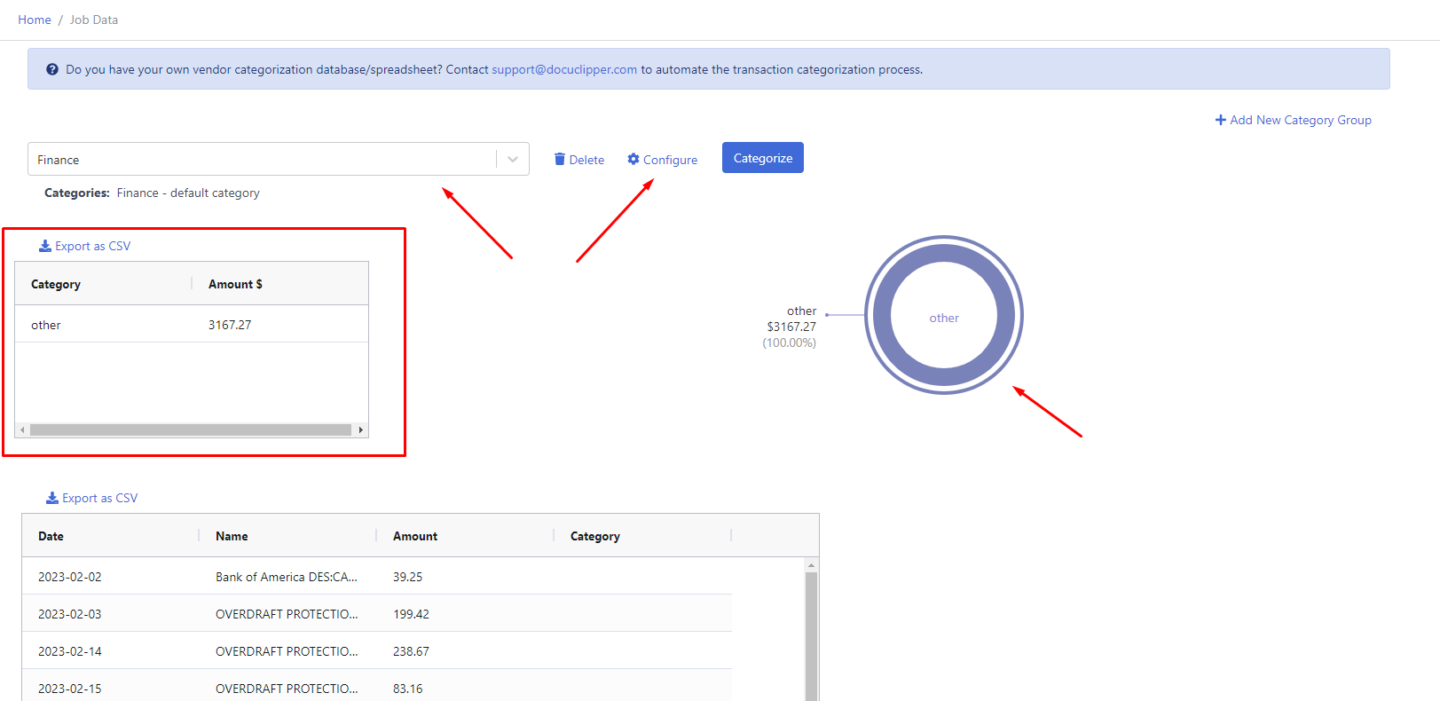 In the popup, name each category (e.g. "Overdraft, Insurance") in the "Category Name" box. Click the "Add New Category to Group" button to add it.
Repeat step 4 to add more categories to the group (e.g. "Insurance").
Delete the default category created by the system if desired.

Add keywords for each category (e.g. "geico, overdraft") and hit "enter" to save the keyword in the category to enable auto-categorization by keywords.

Click "Close" at the bottom right corner of the pop-up window when finished adding all categories and keywords.
Click on the "Categorize" button and DocuClipper will categorize your transactions based on your keywords.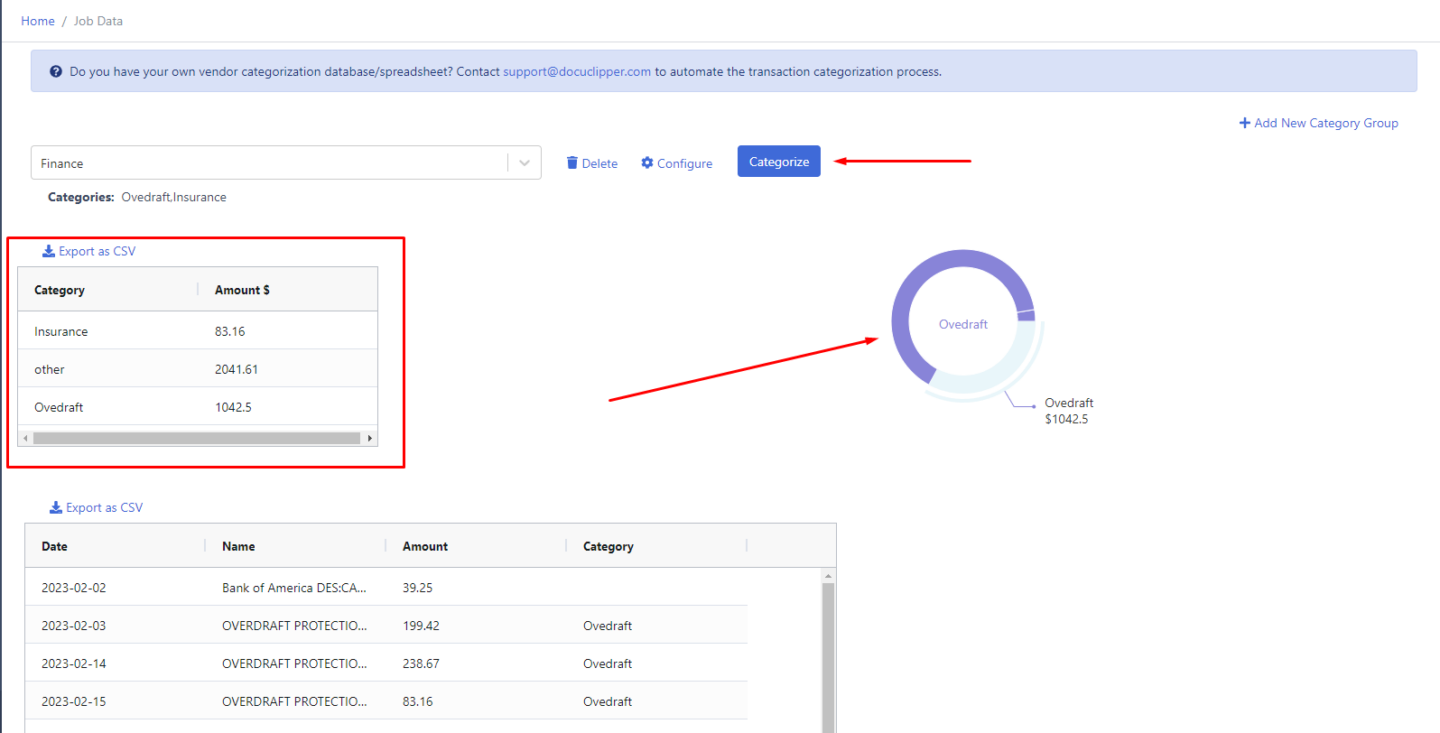 After your transactions are categorized, you can review the categorization and In case any transactions have been wrongly categorized you can manually change the category for each transaction.
Lastly, export the categories as CSV or further work with the data.
Tips for Effective Categorization #
Use category groups like "Expenses", "Income", "Transfers" to organize data.
Be as specific as possible with category names – e.g. "Gas" instead of just "Auto".
Add multiple keywords for each category to maximize the accuracy of auto-categorization.
Regularly review and update categories/keywords as needed for changing data.
For incorrect auto-categorizations, manually override by selecting the right category.
Create common categories upfront to speed up future transaction categorization.
Use Cases #
Transaction categorization can be used by:
Accountants, bookkeepers, auditors to organize client financial data
Business owners to analyze costs, inventory, payroll, etc.
Individuals to track personal spending habits and budgets.
Financial analysts to identify trends and irregularities.
Tax professionals to separate deductible expenses.
Forensic accountants and lawyers for investigations and litigation.